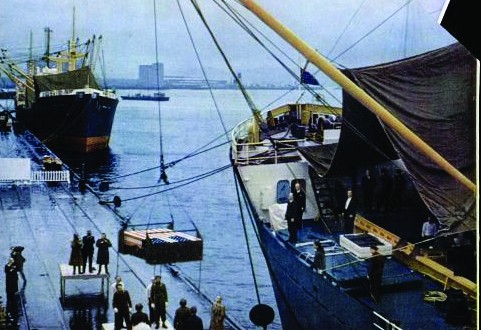 Bill Beigel presents "Return of the WWII Dead" to Thousand Oaks genealogists
Before an enthusiastic group of nearly 100 expert genealogists, modern military casualty researcher Bill Beigel spoke to the Conejo Valley Genealogical Society in Thousand Oaks, California. The presentation, held at the Grant Brimhall Library on July 15, 2014, was Beigel's second appearance before the group.
Bill started off the evening by describing basic research methods for locating information on veterans of modern American wars, World War II through Vietnam. He discussed changes in the research world since he last spoke for the group, and provided some real-life "how-to" examples for working with the various governmental and military record repositories.
The second half of Bill's talk centered on his upcoming new book,"Tell Me About My Boy" (a working title, named after a governmental pamphlet), which explores the process and personal stories of repatriating America's valiant dead after World War II.
"Tell Me About My Boy" includes information on the process of locating and transporting home American's fallen, emotional letters from the next of kin, stunning photographic images from the process, and explores the heart-wrenching decisions that had to be made by American families and the nation as a whole.
After the presentation, Beigel fielded questions on such topics as the National Personnel Records Center, State "Bonus" records for WWII veterans, Korean War records, military unit battlefield reports, and the best sources to use for general military research.
To book Bill Beigel for your event, please call 805.441.7447 or email contact@msmarketintel.com.