USAToday: WWII sleuth puts family mysteries to rest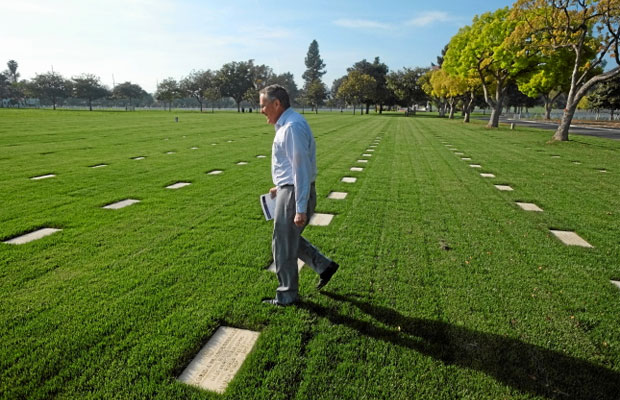 William Beigel at Los Angeles National Cemetery in Westwood, Calif. Photo: Larry Armstrong
TORRANCE, Calif. — William Beigel is a man with Oz-like power.
As a World War II-obsessed sleuth, he enlightens the living by resurrecting the dead and granting them hearts, minds and courage. Especially courage.
An example: A woman asked Beigel (pronounced "beagle") to research her late father, who never spoke of his war experience. Beigel found out why.
When the Germans blew a hole in her dad's plane, he grabbed the legs of a falling gunner. The valiant rescue was in vain: The man plummeted to his death.
These things might have happened many decades ago," says Beigel, 46, "but for descendents, it's still right there below the flesh."
As Sunday's 60th anniversary of D-Day nears, a growing number of relatives are rushing to learn more about the warriors in their midst.
Not that it's an easy assignment. Of the 16.1 million Americans who served in World War II, only a third are still alive, and 1,000-plus die each day. Then there's the well-known wall of silence shared by many veterans, whose stoicism in the face of sacrifice gave birth to the label "the greatest generation."
The clock is ticking.
"We need to find out everything we can about that war from the people who experienced it," says Bev Lindsey, director of the Library of Congress' Veterans History Project, which has collected 16,000 oral histories spanning various American conflicts.
"World War II veterans tended to keep quiet," says Lindsey. "So I do sense that these searches for personal stories are getting much more urgent."
A few organizations offer the curious good starting points. They include the American World War II Orphans Network, which allows anyone who lost a parent in the war to swap stories and "feel less alone," founder Ann Mix says.
Others vet-focused efforts range from the Vietnam Dogs Tags project (vietnamdogtags.com), whose founder, Stacey Hansen, is redistributing hundreds of dog tags she bought in Vietnam to vets and their families, to Dad's War (members.aol.com/dadswar), an exhaustive research help site created by Wesley Johnston.
First find a detective
Those who prefer to leave the researching to the professionals have their work cut out for them. These "historical archaeologists" can be tough to unearth.
"We tend to be independent types," says Jack Forgy, a retired Army colonel in Warrenton, Va., whose 300-plus searches started with an investigation into his father's death at Normandy.
"It's not for everyone, either," he says. "You have to know how the military works. But you also need a sense of intuition, so when you pick up a 700-page file on a division that fought in the Philippines, you'll find what you need."
Beigel has that touch. He's an affable municipal-transport contract writer by day, Little League coach on the weekends, and history buff any moment he can spare.
The unraveling of wartime mysteries would seem to demand a majestic setup. But in Beigel's modest home south of Los Angeles airport, there's no need to summon Toto to pull back the curtain.
"I'm basically fighting for space with the microwave," he says of his low-budget lair, where he has toiled for the past 10 years.
Beigel's office, and that's bringing new minimalist meaning to the word, consists of a desk barely big enough for a laptop crammed in one corner of a cramped kitchen.
A small bookshelf filled with arcane data, such as a book of maps showing troop formations for each day of the war, separates him from the fridge. The microwave doubles as a headrest.
"My overhead's low," shrugs Beigel. "So this pays for the occasional family vacation."
Money is not a motivator
Certainly not the Abercrombie & Kent kind. Beigel charges between $100 and $500 to pore over obscure military records, depending on how much digging is required. A search can take a year.
Internet-based research can offer up the tip of a soldier's story; the iceberg is found in places such as the National Archives, Selective Service headquarters and military branch records. Accessing such data requires letter-writing campaigns, Freedom of Information Act requests and the cooperation of employees who sense the letter writer knows what he's doing.
Beigel's passion stems from childhood stories of his father's cousin, Staff Sgt. Morris Meyers, a window gunner on a B-17 who went missing over the Atlantic.
Family members were never given details of the disappearance. Was it heroic? Did he shoot down an enemy in the process? Instead they received one odd missive indicating that 29 cents belonging to Meyers had been found, and that a check was on the way.
Beigel started digging, and subsequently discovered that Meyers did not die in combat. His transportation to the European theater had inexplicably crashed. "It was a sad way to go," says Beigel. "But at least we knew what happened."
Solving such mysteries requires patience "to wait for what you need, and the ability to translate what you get." After a decade of such searches, Beigel can unscramble military-ese with the facility of a four-star general. Forests of acronyms and layers of jargon often render seemingly helpful documents incomprehensible.
Deciphering the arcane
He pulls one out from reams of folders jammed into two chest-high metal cabinets. It is a report on a plane accident. Across the top is stamped "German Records Completed."
"The layperson would have no clue what they meant by that," he says, explaining it indicates that German air force files, seized after the war, were cross-checked for information on any of the U.S. fliers listed in this report.
The document goes on to assign acronyms to each aviator. KIA is familiar: "killed in action." But there's also EUS ("evacuated to U.S.") and RTD ("returned to duty").
Another page requires a different sort of decoding. It appears to offer a clinical explanation of a 20mm shell going off near one aviator. Beigel shakes his head.
"Read it carefully, and it's telling you this poor guy got his head blown off and fell out of the nose wheel door. Most families never really heard that version."
What loved ones usually got was a telegram "We regret to inform you," followed by the faintest of details: "died over the Atlantic" or "in the European theater."
"They really didn't say much," says Beigel, who attributes this mostly to the sheer volume of casualties, 400,000-plus. But often the truth was too painful.
One soldier survived a month as a prisoner of war in Japanese hands, only to die in captivity. The files sent to the family said that "information pertaining to the burial of remains of your son has not been received in this office." But an internal report Beigel found says he was "executed by musketry."
"Sadly, stuff like that happened all the time," Beigel says.
In a war as epic as this one, details often get overwhelmed by giant themes. But it is just those details, and what they mean to the living, that fire up Beigel.
So when he noticed a woman posting Web site pleas for information about her late father, Beigel offered his services.
"I didn't know much about my dad, since it seemed every family member had a different story," says Jackie Czelusta, 61, of Appleton, N.Y., who was an infant when her father, Quinten Lecker, was killed.
Czelusta's mother divorced Lecker shortly before he left for Europe, and eventually gave the baby to her ex-husband's sister. "She raised me, so I was with relatives at least," Czelusta says.
Sometimes, that was a source of pain. "My grandmother would tell me that he didn't have to go on his last mission, but he volunteered because he wanted to make more money because he had a child," she says. "She was saying he died because of me. She didn't really mean it, but it hurt."
Which is why Czelusta was overjoyed when Beigel discovered that Lecker was under orders when he boarded his B-26. "It was such a relief to lay that to rest," she says.
Lecker's story had a few twists left. The aviator's plane was shot down over the English Channel, but Beigel could not find Lecker's name on lists of soldiers whose bodies were either never found or buried by U.S. forces overseas.
Digging deeper, Beigel found records from an American team — the American Graves Registration Service — charged with identifying U.S. war dead who were missing overseas. They found Lecker's body in a grave dug by the French, but learned he had been buried earlier by the retreating Germans.
In 1949, Lecker was reburied in his hometown, St. Marys, Pa.
"One of my main images of my dad is him being so lonely," Czelusta says. "He was so passionate about his country, which is why he served two tours. But he was out there on his own, eager, his letters said, to come back and meet me. He was so homesick."
Beigel's work created a new bond between daughter and father.
"She wrote me a nice note," Beigel says modestly. But his own emotions peek out as his voice softens. His work strikes deep chords — closure in its purest form.
Wrote Czelusta: "Dear Mr. Beigel … You put my mind at rest. … I've told my family that when I die, I want my cremated ashes to be buried with my father, so he'll never be alone again."
by Marco R. della Cava, USA TODAY: 6/1/2004