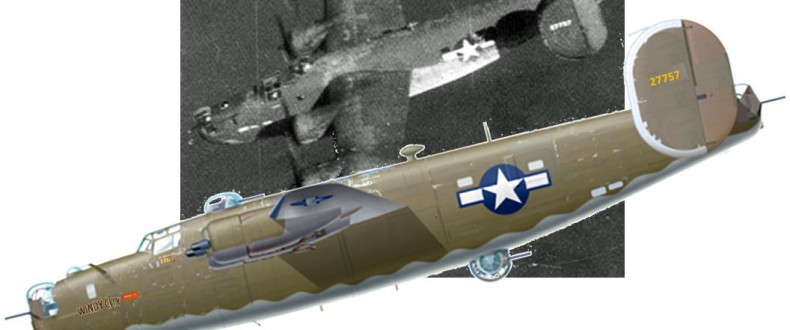 "Windy City"
Back on April 21, in a post called "Three Sprained Ankles", I blogged about "Windy City," a B-24 downed on June 6, 1944.
Jim Greco, the son of a man who flew in "Windy City" (but not on June 6, 1944 mission) has created some excellent artwork of this B-24 Liberator, which I am honored to post here. Jim also sent along a photo of his father, August J (Gus) Greco. Gus flew for Crew 19 of the 451st Bomb Group (Castelluccio Airfield, Italy). Although injuring his back in a crash landing on May 10, 1944 (Gus and the rest of the crew parachuted from the plane over their base), while the pilot, Lieutenant Fred Fulton safely landed the bomber, Gus successfully completed his assigned slate of missions.
Crews flying the heavy bombers (B-17, B-24, and B-29) often flew in whichever aircraft was ready, not exclusively in "their" plane.  I advise my clients that the best way to determine which men flew on which missions is for me to check the loading lists that were created for each specific bomber.
Thanks again to Jim Greco for writing in and sharing his artwork.
 *