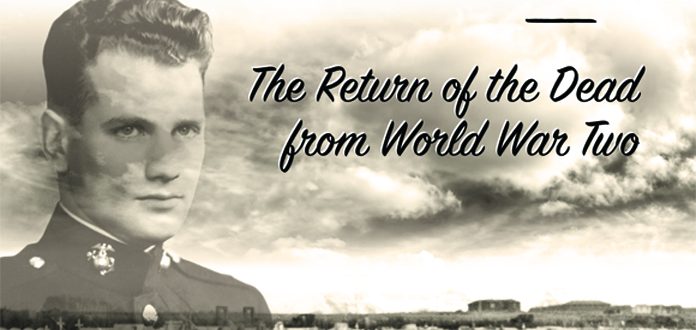 PRESS RELEASE: Debut Non-fiction Narrative Explores Little-Known Aspect of World War II
Debut Non-fiction Narrative Explores Little-Known Aspect of World War II
Military Records Researcher William L. Beigel details poignant history of the US "Return of the Dead" from World War II
REDONDO BEACH, CALIFORNIA. November 11, 2019 — Nearly every American family has a close relative who served in World War II, yet few are aware of the massive effort by the US government to locate, identify, and respectfully disinter and relocate hundreds of thousands of our heroic fallen after the largest war the world has ever seen. Buried on the Battlefield – Not My Boy: The Return of the Dead from World War Two, the non-fiction debut from WW2 researcher and historian William L. (Bill) Beigel, is the first comprehensive book for general audiences ever published on this topic.
Few people know that the United States was the only nation to bring home our war dead after World War II. With little or no debate in Congress, the bodies of America's fallen heroes were removed from foreign graves across the globe, often years after they died, sparing no expense by the US government. More than 280,000 were recovered, leaving that number of American families with an agonizing choice: return their beloved sons to the homeland, or let them rest in military cemeteries overseas in the countries they died to liberate.
Told from personal family letters, official documents, contemporary magazine and newspaper articles, historical research, and previously unpublished photographs, Buried on the Battlefield is the first book to fully describe the return of the valiant dead to America – or to any cemetery in the world chosen by their next-of-kin – after World War II. The book is in tribute to those who gave their lives, as well as to those who mercifully brought them home.
"A moving tribute to fallen soldiers and their survivors." – Kirkus Reviews
Reader feedback:
"…extremely well written and impeccably researched." – Jack M.
"This was a story of a few, but it touched not only those 20 lives, but thousands such as mine." – Everett R.
"We have over 70 years of distance between us and the traumatic events and personal losses of WWII, but there are still people suffering from those losses even today…. I highly recommend this book to any student of WWII or anyone interested in the social history of our country. It's well written and fast moving. You will definitely pause during your reading and consider what you would do if you were in the family's shoes." – James O.
"After reading this book, one has another reason to be very proud of being an American." – Mark
Buried on the Battlefield – Not My Boy: The Return of the Dead from World War Two
by William L. Beigel
Publisher: Midnight to 1 AM
ISBN: 978-1-7336125-0-0
Distributor: IngramSpark
Format: Hardcover, 6 x 9
Published: May 16, 2019
Available at William L. Beigel's Website, Amazon, and Barnes & Noble.
About the author
William L. (Bill) Beigel, M.A., is a World War II historian, speaker, author, and researcher, specializing in US military service histories of veterans and casualties of World War II. To date, Beigel has researched nearly 3,000 veteran's service histories for more than 1,500 clients worldwide, providing answers families have sought for decades.
His work has been featured by dozens of US media outlets, including USA Today, the New York Times, Los Angeles Fox News and CBS affiliates, and many others. He is a major contributor to the American Air Museum in Duxford, England and he is the official researcher for the Kwajalein MIA Project.
His debut non-fiction book, "Buried on the Battlefield" was published in May, 2019. Beigel earned a B.A. in History and a Masters in Geography, both from UCLA. He is a member of the Society of Military Historians, the Organization of American Historians, and others. For more information, please visit https://ww2research.com.
General Inquiries, Review Copies & Interview Requests:
Ruth Danielson, Publicist
Mulberry Street Market Intelligence, LLC
+1 805.441.7447
rdanielson@msmarketintel.com