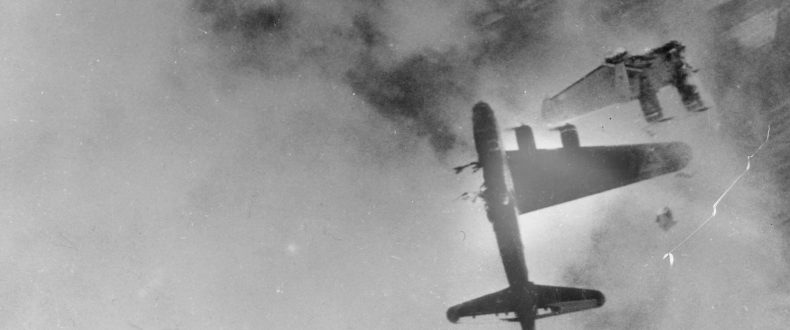 Wee Willie and the photo that started it all
Above is B-17 "Wee Willie" going down over Berlin on April 8 1945, just one month before the end of the War in Europe.
This photo inspired my World War 2 research and my novel, although my novel is about a B-24, not a B-17. I originally viewed the crash of "Wee Willie" in a TIME-LIFE history of World War 2 around 1971 at the age of 13.
The bomber was crewed by:
Pilot: 1st LT Robert M. Fuller (Hollywood, CA)
Co-Pilot: 2nd LT Woodrow A. Lien (Brockton, MT)
Navigator: TSGT Francis J. McCarthy (Nashville, TN)
Bombardier: SSGT Richard D. Proudfit (Grenada, MS)
Top Turret Gunner: SSGT Wylie McNatt, Jr. (Corpus Christi, TX)
Ball Turret Gunner: SSGT William H. Cassidy (Brooklyn, NY)
Radio (Radar) Operator: SSGT Ralph J. Leffelman (Seattle, WA)
Waist Gunner : SSGT James D. Houtchens (Kearney, NB)
Tail Gunner: SGT Lemoyne Miller (Butler, PA)
Only the pilot, LT Fuller, survived the crash
Another gunner in the Squadron (401st Bomb Squadron), SSGT George Little, witnessed the B-17 as it was hit:
"I observed [the bomber] receive a direct flak hit approximately between the bomb-bay and the No. 2 [in-board motor on the left wing] engine. The aircraft immediately started into a vertical dive. The aircraft fuselage was on fire and when it had dropped approximately 5,000 feet the left wing fell off. It continued down and when the fuselage was about 3,000 feet from the ground it exploded, and then exploded again when it hit the ground. I saw no crew members leave the aircraft or parachutes."
I'm including a link to a web site dedicated to the 91st Bomb Group to which "Wee Willie" belonged, with a brief history (excerpted below) related to the image that started it all.
–Bill
Excerpt:
The pilot in this photo is Lt. Paul Jessop. The photo was taken on February 14, 1944. Wee Willie's last mission was on 8 April 1945. A direct flak hit and tore off a wing. The pilot of this mission was 1st/Lt. Robert Fuller and he survived along with some of the crew. Wee Willie was the second or third from last lost to the 91st durning [sic] WWII to be downed in action and was credited with 120 missions. Skunkface III was the last 91st B-17 lost, with the Harry V. Camp crew on board. Shot down by ME-262 Jets on 17 April 1945. Only the tail gunner survived.