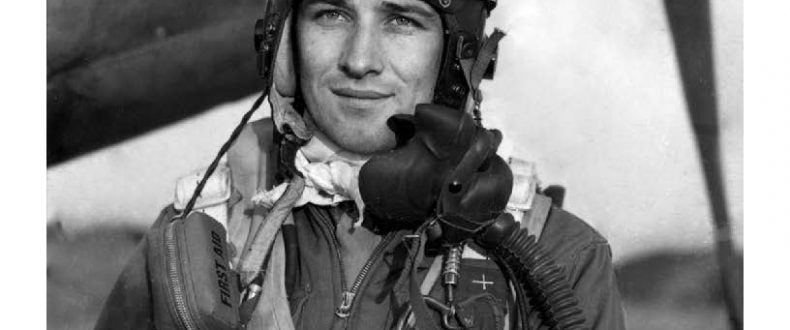 LT Edward Arthur Loetscher, Ellington, CT
The weather was "clear on the deck" when the Mustangs of the 55th Fighter Squadron left their base at Kingscliffe, England, for a fighter-bomber mission to the German university city of Heidelberg.
Piloting one of the Mustangs on Thursday, November 9, 1944, was 2nd LT Edward Arthur Loetscher of Ellington, CT. On their way to the target, the 55th executed a right turn. While making this maneuver, the fuel tank on the belly of LT Loetscher's aircraft fell off. Probably due to a change in the dynamics of balance, this caused the fighter to flip over and lose control. The plane "burst into flames" and "no one was seen to leave the ship," according to two flyers in his Squadron.
The two flyers were LT Richard William Freuchtenicht and LT David Louis Freeman. Freuchtenicht, of German descent, and Freeman, of Jewish descent, both survived the War.
The plane crashed in Ebernburg, Germany, where his remains were buried in a local cemetery. Almost a year later, in October of 1945, elements of the American Graves Registration Service came through the town. After meeting with the local Burgermeister, they were led to his grave. Although his body was nearly destroyed by the crash, he was identified by his name, rank, and serial number that were stenciled onto his electronic flying suit and flight gloves.
After he was identified, his remains were sent to the American Battle Monuments cemetery in St. Avold, France. At this point, his parents, Jacob C. and Anna A. Loetscher, was given the option to have his remains buried in France, or returned to the United States for final rest, both at Government expense. Mrs. Loetscher chose to him have him buried in France. Perhaps this was to avoid the pain that might have come from having him returned home, with the attendant funeral and visits from friends and family.
His personal effects were sent home from his base in England. They included two cartons containing his billfold, some handkerchiefs, seven pairs of socks and four pairs of trousers. Also included were two money orders in the amounts of $52.90 and $40.17, representing his personal funds.
LT Loetscher was among more than 20 men who died in World War from the small town of Ellington, CT, where his name is inscribed on a small stone in the Village Green.
I researched all of these men from Ellington, at the request of the town Selectman (Mayor) at the time, Mike Stupinski.The project was completed in 2007 – 2008; check for most posts on this topic, as I have many more of their stories to tell.