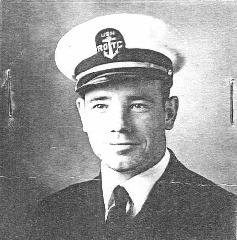 Beloved son shot down one week after his 24th birthday
LT Junior Grade Albert Leonidas Peterson
LTJG Peterson was born March 17, 1920, in Jacksonville, FL. On March 24, 1944, while serving with Naval Bombing Squadron (VB) 305, he was killed in a crash on Bougainville in the Solomon Islands. His aircraft was observed to be streaming fuel as he approached his target. He attempted to land at the Torokina fighter strip, but when he saw it was  impossible, he bailed out of his plane at 100 feet. His parachute did not open.
He was survived by his mother, Marguerita Peterson, of Atlanta, and his father, Charles A. Peterson of Jacksonville.
Mrs. Peterson wrote this letter to the Department of the Navy, requesting the return of her son's remains after he was killed during a bombing raid:
Atlanta, GA (date uncertain, appears to be 9-9-44)
Navy Department Bureau of Naval Personnel Washington, D.C.
Dear Sirs-
Until now, I found myself unequal to write you regarding the remains of my blessed Son, Lieutenant (J.G.) Albert L. Peterson. My son met his untimely death in Bougainville-March 24, 1944.
There he is peacefully sleeping until his remains will be returned to me, which causes me to be so grateful to our own United States.
I realize only his remains are there, for he is my sacred spirit's comrade daily – here with me. But Sir, my son is all I have. It will bring untold comfort to me to have him here with me. To be beside me one glorious day.
From the depths of my heart, this is my wish. Thank you sirs.
Very truly yours,
Mrs. M.A. Peterson
817 Ponce De Leon Ave. N.E. #8