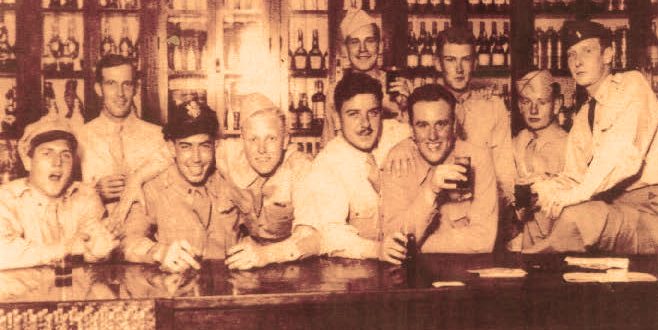 Six B-24s From Baker Box Downed
The men – the boys, really – were right from Central Casting. An All-American crew. Ready and able for the mission of July 2, 1944. The pilot was 2nd LT Laurence Whittaker, of Little Rock, Arkansas. His fellow officers were Flight Officer Ernest C. Phillips, copilot, from Chester, Pennsylvania. The navigator was 2nd Lieutenant John F. Wark, of Dorchester, Massachusetts, and the bombardier was 2nd LT Russell M. Sharples, of Thorton, Ohio. Only LT Sharples was married.
There were six gunners: Staff Sergeant Hugo O. Perttola, of Detroit; Staff Sergeant James A. Riley, of New Rochelle, NY; Technical Sergeant Gordon O. Nyen, of Atlanta; Sergeant Warren C. Klein, of Queens; SGT Carl F. Sutter, of Rochester, New York; and Sergeant Archie L. Hyslop, like SSGT Perttola, also from Detroit. Sergeants Perttola, Klein and Sutter were all married.
One member of the crew was not aboard their B-24 as it warmed up on the runway at Stornara, Italy. He was 2nd LT Paul Edlund. LT Edlund had been badly wounded on a previous mission and was fighting for his life in the base hospital. The flight crew's target on this day was the Shell Oil Refinery at Budapest, Hungary. It had been attacked before, and the German Luftwaffe was ready.
By the end of the day, 20 US Army Air Corps aircraft were destroyed. From LT Whittaker's unit, the 456th Bomb Group alone, six B-24's were downed. That evening, 1st LT Marvin E. White, the Squadron Intelligence Officer, tried to make sense of the huge loss suffered on the raid. His report read:
"On July 2, 1944, six of our B-24 bombers from Baker Box were seen shot down in the target area…Reporting crews were unable to distinguish between these aircraft as to number, and as result a definitive report cannot be made on each individual ship. It was reported, however, that two aircraft were seen to disintegrate in mid-air, two seen going down with engines on fire, one with wing broken off and one with tail shot off."
Two years later, the only two survivors of the Whittaker crew were asked by the Air Corps to provide a report regarding their slain crew mates. The two, 2nd LT Wark, and Staff Sergeant Riley, provided brief, poignant testimony. Of LT Sharples, one testified, "I cannot understand why he was not saved as I think he got out of the plane all right."
Of LT Whittaker, on his 26th mission, the report said that he "did not have a chance to get his chute on" and that he was later seen dead on the ground, pulled from the wreckage of the bomber.
For SGT Hyslop, the facts provided were perhaps the most grim. No one knows how he died, but one speculated that he "may have blown out of the ship."  His remains were found on the ground, decapitated.
LT Edlund, the crew member fighting for his life at the base hospital, survived, and after the War, became the Mayor of his hometown, Garrett Park, Maryland.