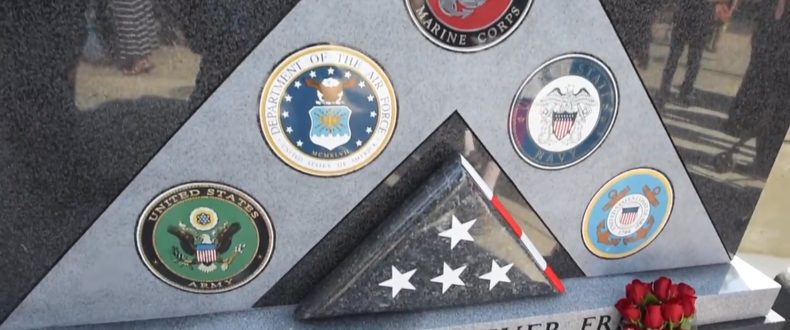 Hometown Heroes – Fresno Unveils New Veterans Memorial
On Friday, November 8, 2019, the City of Fresno unveiled a brand-new memorial honoring 464 local heroes who died in battle in wars ranging from World War I to Afghanistan and Iraq.
Earlier this year, the City of Fresno contacted me, seeking to confirm names of four Fresno citizens who had died in battle in World War II. Over the next weeks, I spent many hours searching for records to identify all of those who fell in battle in World War II or the Korean War, whose names would eventually grace the memorial – 348 names in all.
The City held its dedication of the Fresno Veterans Memorial on Friday, November 8, in front of City Hall. While I was unable to attend the unveiling in person, my contact at the City sent me a link to a video of the event, filmed by the Fresno Bee. You can watch the video here.
I wasn't quite prepared for my reaction at seeing the memorial unveiled. In many cases, I learned much more than the names of these fallen heroes as I compiled the lists of WWII and Korean War dead whose names would come to be added to Fresno's planned memorial. I knew the exact dates of their deaths. Their home addresses. How old – or rather, how young – they were. To see the names, deeply engraved on the shining granite, and to see the emotion in the faces of some of the families and descendants of the fallen, holding photos of their lost loved-ones, touched me more deeply than I had anticipated. I am moved to see how much this memorial means to the citizens of Fresno and the families whose sons, husbands, uncles, and fathers, gave all for the cause of freedom, in many cases, decades ago.
I have been fortunate to research the names of hundreds of veterans for civic memorials like this one, all across the country. In every case, I consider it a rare privilege to play a role – along with elected officials, city employees, corporate and private donors, and the families themselves – in making sure that their sacrifices and their stories are not forgotten.
Below are links where you can read the stories of six of these young men that ran in the Fresno Bee when they lost their lives during World War II. By reading their stories, you're helping to keep their memories alive.
They are:
I also want to note that there are a great many heroes whose names are not included in this monument – those brave Fresno citizens who died in honorable service of non-battle causes. Perhaps one day, plans can be made to add their names. With this post, I want to gratefully remember their service as well.
To honor their sacrifice,
Bill
Gratefully acknowledging Daniel Gai, Council Assistant and Fresno City Councilmember Garry Bredefeld, along with the citizens of Fresno for the privilege of contributing to this project.
Photo credit: Video screen grabs, The Fresno Bee