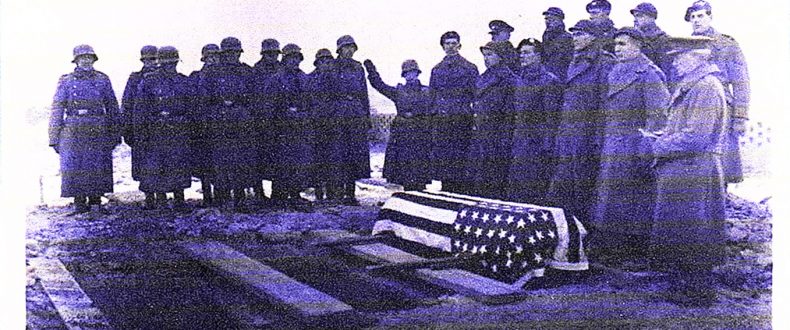 His last thoughts
The article in the Torrance Herald of Thursday, January 25, 1945, was brief:
Next to his photo, it read:
"MISSING IN ACTION…Sgt. Perry Franklin, 22, son of Mr. and Mrs. Victor Gossiaux, 1640 W. 219th Street, has been declared missing in action since December 24. With a tank destroyer company, he has been in action in France, Germany, and Belgium since 'D' day…."
Private (not Sergeant) Franklin was serving with C Company, 807th Tank Destroyer Battalion, when his unit was overrun during the catastrophic German attack which came to be known as the Battle of the Bulge.
Franklin was just over 19 years old when he entered the Army on February 14, 1941. He was a veteran of his unit when he was captured on Christmas Eve, 1944. Like thousands of others, he was herded aboard a military transport train for the ride back to Germany.
These trains were terribly crowded and unsanitary, and many of the prisoners became ill. Franklin was one. Sick with pneumonia, he died January 6, 1945.
Two men witnessed his death and recorded his last moments. These men were an American soldier, Anthony P. Silvestri, of Danville, Virginia, and L.S. Ferguson, a New Zealander from the town of Taoranga.
As they reported to the International Red Cross:
"In spite of all medical efforts, it was not possible to keep him alive. FRANKLIN died a quiet death. His last thoughts were of his family and he hoped to the last that he would regain his health. He was buried in the presence of many of his comrades and a delegation of German soldiers who laid him to rest with military honors."
Remarkably, considering war-time conditions, a photograph was taken of his burial. Equally as unusual, when he was buried at the Neuburxdorf Cemetery in Germany, his headstone was well marked. So, in September of 1947, when soldiers from the Graves Registration Service located his headstone, in Sachsen, Germany, his remains were easily identified and recovered.
PVT Franklin was buried at American military cemetery in Neuville-en-Condroz, Belgium, on November 15, 1948. He rests to this day with thousands of his brothers-in-arms who made the ultimate sacrifice in World War 2.