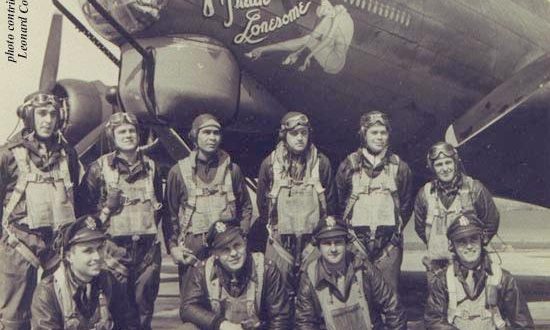 "Presumed Deceased, Remains Not Recovered"
It was Tuesday, May 30, 1944.  Memorial Day.
83 B-17's of the 1st Bombardment Division were in the air. Their target was the aircraft industry factories at Dessau, Germany, where the Elbe and Mulde rivers converge in Saxony.
According to Squadron records, the crew of B-17 tail # 42-39975, nicknamed "Just Plain Lonesome", of the 1st Bombardment Division's 91st Bomb Group, had averaged 16 missions flown each.  A tested, veteran crew.
But at about 11:15 AM, the 'Flying Fort' was hit by both ground fire and German fighter attack.  Someone from the bomber radioed that "…aircraft was hit by flak at the target….two engines out and no aileron control….request fighter escort…."
No member of this crew was ever seen alive again, and their remains have never been recovered.  Did the plane make it to the Zuider Zee, or the North Sea, and go down over the water?  Did it explode in such a violent manner, in the air or on the ground, that no remains could ever be recovered?  Or were there survivors, killed on the ground by German military or civilians, and buried in unmarked graves?
The entire crew was, and is, listed as "PDD": "Presumed Deceased, Remains Not Recovered".
They were:
1st Lieutenant Zack C. Collier, Jr (Amarillo, TX)
2nd Lieutenant John T. Kellher (Superior, WI)
2nd Lieutenant William P. Clements (Longview, TX)
2nd Lieutenant Harry J. McDermott, Jr. (Glenside, PA)
Technical Sergeant Harry L. Ward (Portland, OR)
Staff Sergeant Tommy Cogdill (Laurens, SC)
Technical Sergeant Stephen Kogut (Buffalo, NY)
Staff Sergeant George R. Zirnheld (Norfolk, VA)
Staff Sergeant Charles J. Semon (Philadelphia, PA)
The Missing Air Crew Report (MACR #5355) has been the cause of much debate among researchers of this crew. One major discrepancy is in the date of death listed for these crewmen. In letters to the families, the date of death was listed as September 10, 1945. The discrepancy is likely due to the date of the crash and the date that the crew were legally declared dead. The incident occurred on May 30, 1944, but because the crew were missing, the Army didn't list them as officially deceased until September 10, 1945. The legal declaration of death was known as a "Finding of Death" (FOD).  The FOD was issued in the case where an individual was declared to be legally deceased, but whose remains had not yet, or could not be, recovered.
The FOD rose out of Public Law 490 which was issued in 1942 to help settle the insurance payment and inheritance issues (i.e. the necessity to pay relatives of the deceased in a timely manner in the event remains were not yet recovered).
Photo notes: The crew pictured with "Just Plain Lonesome" is another crew that flew this B-17, but not the Collier crew who went down with her. The crew pictured are: Back row, L-R: S/Sgt. Fred R. Honey, Waist Gunner, Detroit Mich.; T/Sgt. Gerard J. Bradley, Top Turret Gunner/Engineer, Shamokin Pa.; Sgt. Enrique (Pat) Tafolla Perez, Ball Turret Gunner, Uvalde TX.; S/Sgt. Joseph Morrison, Waist Gunner; Sgt. Clemmet D. Hester, Tail Gunner, New London Iowa; S/Sgt. Edward J. Cook, Radioman, Newark New Jersey. (S/Sgt. Tommy Cogdill, Waist Gunner. not in photo) Front row, L-R: Lt. Richard M. Carlson, Co-Pilot, Glendale Calif.; Lt. Ronald J. Nichols, Pilot; Lt. Stanley Sweitzer, Navigator, Louisville KY.; Lt. Fredric T. Neel Jr., Bombardier.
The in-flight photo of B-17 Flying Fortresses shows a squadron of the 91st BG enroute to the target of the day ovewr Oberfaffenhofen, Germany on March 18, 1944, two months before "Just Plain Lonesome" was lost. This is a US Army photo, courtesy of Warbird Central.
Photo of Tommy Cogdill from the personal collection of Robert Templeton, grand-nephew of S/Sgt. Tommy Cogdill
The map image shows the flight route for "Just Plain Lonesome's" final mission, from MACR #5355. Photo courtesy of Fold3.