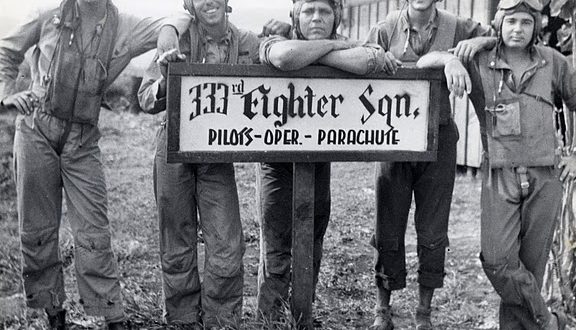 Memorial Day: 1945
Memorial Day, May 30, 1945.  The War in Europe is over, but the bloody struggle in the Pacific continues on, with no end in sight.
P-47 "Jugs" of the 318th Fighter Group were raiding targets on the southern Japanese island of Kyushu.  This mission was a so-called "Heckler" mission. These raids had no specific target; the intent was to harass and attack whatever target they might come across.
The weather was bad; it was listed as "completely closed in" at the base of the 318th on the small island of Ie Shima, near Okinawa.
Still, five Jugs with the 333rd Fighter Squadron were able to leave the base. However, the weather was bad at Kyushu, too, so the planes attacked targets on the island of Amani Oshima, halfway between Kyushua  and Okinawa.
1st LT Durwood B. Williams, of Godwin, North Carolina, described the return flight to their base:
"The weather was very bad – completely overcast and raining.  We flew at 10 feet over the water until we reached northern Okinawa…..I became separated from the rest of the flight in this turn and did not see any of the planes thereafter…later I picked up homing and returned to base." Of the five Jugs, only Lieutenant Williams and one other flyer made it back.
The three flyers who were lost were never seen again. They were:
1st Lieutenant Albert W. Heilman, of Pennsylvania
1st Lieutenant Duane D. Jones, of Minnesota
Major Winston B. Park, of Michigan
Lt. Albert Heilman was awarded the Air Medal and the Purple Heart. Lt. Duane D. Jones also was awarded the Air Medal and Purple Heart. Major Winston Park was awarded the Distinguished Flying Cross, Air Medal With Oak Leaf Cluster, and Purple Heart.
Lt. Durwood B. Williams survived the war, earned the Legion of Merit, Distinguished Flying Cross, and four Air Medals. His military career continued and he was promoted to the rank of Colonel.
Image notes: Photo of Winston B. Park courtesy of WW2 Memorial Site; group photo shows Duane Jones, Robert Stone, Albert Heilman, George Shulman and Billy Kemp. Photo from the private collection of Marsha Kemp (daughter). Photo of D.B. Williams and Cheek Baby contributed by Durwood Williams.