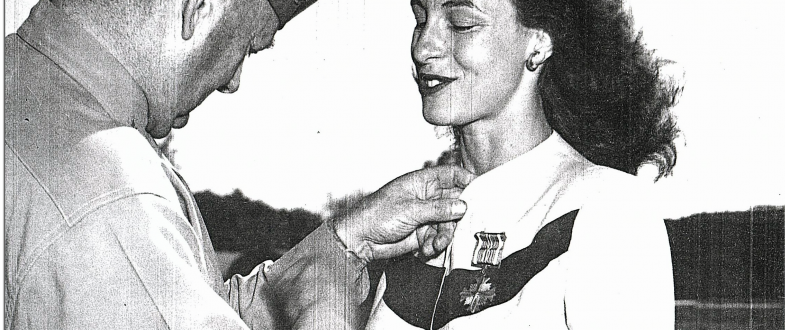 Remembering the Fallen: WWII Veterans of UCLA, Major Robert C. Maze
Rosemarie and Robert Maze are the only military couple included in my Veterans Day speech for the UCLA Alumni Association on November 9. Please join me at UCLA if you're in Los Angeles that day.
Pictured: Rosemarie Maze, US Navy, receiving the Distinguished Flying Cross on behalf of her husband, Marine Major Robert C. Maze. Major Maze, commander of Fighter Squadron 511, was shot down in the battle for Okinawa.
The Distinguished Flying Cross citation reads, in part:
"For heroism and extraordinary achievement in aerial flight as Commanding Officer of Marine Fighting Squadron FIVE HUNDRED ELEVEN . . . . Undaunted by grave hazards, Major Maze boldly led his squadron into hostile territory to execute thirteen daring strikes against Japanese airfields, service installations and small service craft, and, skillfully designating targets and coordinating each fighter attack in the face of accurate antiaircraft fire, inflicted severe damage upon the enemy . . . . Mortally wounded in an attack against vital enemy shipping, Major Maze, by his cool courage and superb airmanship throughout these important missions, had upheld the highest traditions of the United States Naval Service. He gallantly gave his life for his country."
Robert Maze graduated from UCLA in 1940 with a B.A. in Economics. At the time that he led Fighting Squadron 511 and died so heroically in battle, he was only 27 years old.
Admission is free and all are welcome to this Veterans Day, where we will honor all of the Bruins from UCLA who died in World War II.
Click here to reserve your tickets for the event.
Click here for complete event information.