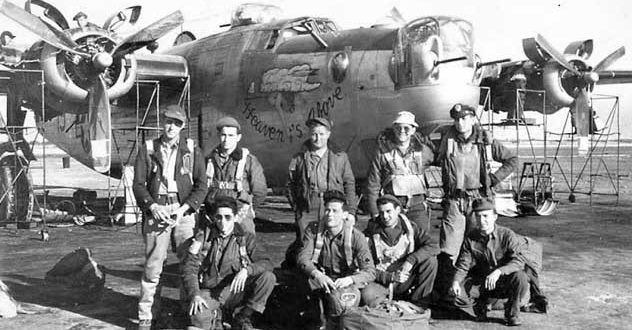 Five From the 464th Bomb Group
The 15th Army Air Force, based in Italy, sent hundreds of B-24 Liberators against the Romanian oil fields at Ploesti on June 6, 1944. This mission cost one of their units, the 464th Bomb Group, five crews. It was one of the worst days of the war for the 464th.
B-24 tail #42-52449, nicknamed "Hard Hearted Hannah," left the formation for reasons that could not be determined by observers. A top turret gunner in another plane in the formation testified that "…there was no smoke, couldn't tell what happened as the plane was in full control, flying level. Apparently flak might have shot off some of the controls…"
In fact, the bomber managed to stay airborne and eventually crash-landed at a barricaded runway at Sidi Gazi, about 25 miles north of Istanbul, Turkey. Turkey was a neutral country, and after a short period, the crew – all of whom survived – were repatriated to the United States.
The crew of "Hard Hearted Hannah" (hometowns not of record) were:
1st Lieutenant John F. Ware
2nd Lieutenant Robert W. Johnson
1st Lieutenant Herbert M. Johnson
1st Lieutenant Gordon B. Smith, Jr.
Technical Sergeant Odel B. Fitzgerald
Staff Sergeant James W. Kent
Staff Sergeant Joseph J. Infusino
Staff Sergeant Roland J. Hier
Sergeant Charles J. Tucek, Jr.
Sergeant Floyd W. Smith
"Pappy's Puss," B-24 tail 41-29410, was knocked out of the sky by German fighter aircraft. A waist gunner aboard a nearby aircraft made this report: "…all of a sudden I saw 4 ME 109's (German fighter aircraft) come right through the middle of our box, a little bit underneath us. The fighters peeled off to the left and I looked over at Ship #410, Lt. Ullman's ship, which was flying…in a level flight. It then looked to me as though it was out of control as the nose suddenly went straight up in the air and just as she was about at the climax of her climb, I noticed three chutes come out."
Remarkably, the entire crew of this bomber safely bailed out. The crew was captured and held as Prisoners of War in Germany.
The crew of "Pappy's Puss" were:
2nd Lieutenant Victor H. Ullman (Laurelton, NY)
2nd Lieutenant Duane M. Buckmaster (Siloam Springs, AR)
2nd Lieutenant Robert B. McCaslin (Cincinnati, OH)
2nd Lieutenant Donald J. Pieper (Decatur, IL)
Staff Sergeant Franklin R. Snyder (Williamstown, NJ)
Technical Sergeant Milton H. Peck (Vivian, LA)
Sergeant John R. Ward (Bismarck, ND)
Sergeant William A. Danaher (Lafayette, IN)
Sergeant Dexter E. Kimzey (Torrington, WY)
Sergeant Paul L. Sanders (Benton, IL)
A third crew, that aboard B-24 tail #42-50411, had a similar fate to the two others. Fifteen minutes from the target on the return trip, the ship was hit by enemy fighters. After the end of the War, the navigator of the crew gave a gripping description of their final minutes airborne:
"…noticing that the ship was on fire tried to notify the nose gunner (Richardson) to the effect that abandon ship had been signaled. The interphone was out of order and he could not have heard a verbal order. However Richardson was tracking a FW 190 (German fighter aircraft) down and had his turret turned so that I could not get to open the inner door. The fire by this time had reached such a proportion that I knew it would be foolhardy to remain further, so I adjusted my chute and went out the nose wheel door…Lt Stout bailed out (or rather I should say he was half-way out of the ship when it blew up. His chute was opened by the force of the explosion…."
The entire crew survived as POWs in Romania, except one. He was Staff Sergeant Richardson. His fate was surmised by Lieutenant Stout, also after the war:
"….I think that in the excitement that members (of the crew) jumped without first telling him that the Bombay was afire, and by the time he found out he was unable to get out of the turret. The interphone was shot out. The plane exploded before touching ground."
He added that, after he landed on the ground, Lieutenant Stout was approached by a Romanian guard, who brought him Richardson's dog tags, and told him that "…they came from a body in the nose of the airplane."
Staff Sergeant Richardson's remains were recovered after the War and returned to the Golden Gate National Cemetery in San Bruno, CA. Serving as a replacement gunner, he was 19 years old when killed, on his first mission. The rest of the crew survived.
The entire crew of B-24 tail #42-50411 included:
2nd Captain George W. Leggat (Detroit, MI)
2nd Lieutenant Eugene W. Stout (Montgomery, AL)
2nd Lieutenant Harvey W. Bronstein (Roxbury, MA)
2nd Lieutenant William F. McCabe (Ridgewood, NY)
2nd Lieutenant Edward M. Schieres (Dunkirk, NY)
Staff Sergeant Eugene H. Ballard (Riverton, UT)
Staff Sergeant Stanley W. Richardson (San Mateo, CA)
Sergeant Ronald E. Hall (Tucson, AZ)
Sergeant Warren G. Clement (Bluefield, WV)
Sergeant Robert H. Thurmond (Cotton Plant, MS)
Sergeant James E. Allinder (Heavener, OK)
The fourth crew was that of "Heaven's Above," B-24 tail #42-50405. Hit by both fighter attacks and anti-aircraft fire, the bomber went down over Yugoslavia. The entire crew was able to exit the downed Liberator. Interviewed after the War, the copilot, 2nd Lieutenant Gerhard Heinicke, reported, "…2nd Lt. Bert R. Hays (pilot) was killed while descending in his chute by ground troops firing at us. He is buried at Uzice, Yugoslavia."
He also reported that the rest of the crew successfully evaded capture, except Staff Sergeant Monroe Earnest, who was captured by German troops and made a prisoner of war.
The crew of "Heaven's Above" were:
2nd Lieutenant Bert R. Hays, Jr. (Birmingham, AL)
2nd Lieutenant Gerhard A. Heinecke (Seward, NB)
2nd Lieutenant Gordon J. Broadhead (Middletown, NY)
2nd Lieutenant Robert J. Thies (Minneapolis, MN)
Staff Sergeant Thomas N. Dixon (Covington, KY)
Staff Sergeant Monroe H. Earnest, Jr. (Houston, MS)
Technical Sergeant Robert Cassity (Portsmouth, OH)
Staff Sergeant Gerald L. Bryan (Shafter, CA)
Staff Sergeant Dell J. Edmundson (Yorktown, IN)
Sergeant William R. Ely (Portland, OR)
The remains of Lieutenant Hays were never recovered.
The fifth loss suffered by the 464th was tail #41-29379. The Navigator of the crew, 1st Lieutenant Michael Lyga, gave this report of how his bomber was shot down:
"…I was alone in the nose section when the head on fighter attack came. Nose gunner was in the turret. A shell, presumed to be a 20mm, exploded close to my head. I was dazed for 15 to 20 seconds and upon reviving, I tried to fight a fire which was blazing under the flight deck.
"Although I have no definite proof, it is my belief that the nose gunner, Carpentier, was either severely wounded or dead, and did not leave the ship. The line of fire from enemy aircraft hit the front and center of our ship. A few days after being taken prisoner, a Romanian Intelligence Officer – Lt Val John (or Valjcan) mentioned that one body was found in one of the ships that had been located. Carpentier was not on our crew – he was filling in on our crew that day-and I know nothing more about him."
The remains of SGT Anthony F. Carpentier, were never recovered. The rest of the crew survived. They were:
2nd Lieutenant James C. Donan (Montclair, NJ)
2nd Lieutenant Michael Lyga (Bayonne, NJ)
2nd Lieutenant Patrick J. Anderson (hometown not of record)
Technical Sergeant Raymond H. McMahon (hometown not of record)
Staff Sergeant Robert A. Veley (Marion, OH)
Sergeant Anthony P. Carpentier (Jeanette, PA)
Private First Class Allen F. Simmons (Brooklyn, NY)
Sergeant Robert P. Byer (Scranton, PA)
2nd Lieutenant Richard M. Dennis (Lynbrook, NY)
If you served with the 464th, or if you are a family member or friend of any of the flyers listed here, please get in touch with me, either in the Comments below or at bill.beigel@ww2research.com. I would love to hear from you.
Image notes: We're researching exact identifications of the photos included in this post. The planes shown have nose art in common with the names of the planes in this story, but it is unknown whether these are the exact B-24 Liberators featured, or if any of the flyers pictured are men from these stories. "Hard Hearted Hannah" is from the collection of Tim Chadwick, courtesy of Frank Ambrose. "Heaven's Above" photos provided by B24BestWeb and "crossloch"; the last Heaven's Above photo is possibly "Dave Spaulding crew". If you have any information to offer, please get in touch.