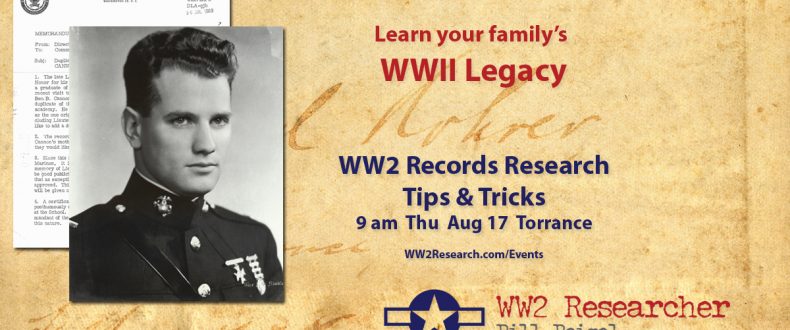 WORKSHOP: WW2 Military Records Research | Torrance CA, 8/17/17
Register Below
"Researching the Silent Generation:
Solving the Mysteries of WW2 Military Service"
Last Day to Register!
Do you have a family member who served in the U.S. military in World War II? Have you been searching for information about their service? If so, plan to attend Bill Beigel's WW2 Military Records Research Workshop on August 17 at the Torrance Cultural Arts Center, Torrance, California.
If you're like most people, you probably know very little about your relative's World War II service, since most veterans famously kept secret most details of their experiences. Reasons for this include wartime secrecy, shock, grief, and shame over what veterans personally witnessed or experienced, as well as this generation's well-known (and honored) tendency to simply accept the adversities of the past and move on. Yet military service histories are highly sought-after by relatives who lived through the war, as well as by their descendants.
If you've been searching for military records for a relative who served in World War II, you probably know that millions of files were destroyed in a massive fire at the National Personnel Records Center in St. Louis in 1973. But there are still ways of locating records. In this 2-hour workshop, expert researcher and WWII historian Bill Beigel will give you his tips & tricks for unlocking the mysteries of the Silent Generation's experiences in World War II.
Workshop Presenter: William L. (Bill) Beigel, M.A., Historian and American Military Researcher
Who Should Attend: Relatives of WWII veterans, POWs, or WWII casualties; professional and hobbyist genealogists, history buffs; students; anyone interested in U.S. WWII history
Topic: Hands-on instructions for researching and interpreting U.S. WWII Military Records
Date: Thursday, August 17, 2017
Time: Registration 8:30 – 9 a.m. The workshop is from 9 a.m. – 11:30 a.m.
Location: Torrance Cultural Arts Center, Garden Room B, 3330 Civic Center Drive, Torrance, CA 90503
Cost: $79
Includes: In-person, hands-on workshop with WW2 research expert Bill Beigel; opportunities to ask questions about your specific research project of a WW2 military veteran or casualty; and a set of research instructions for all four branches of service. Bring your laptop or tablet, or a notepad and pen.
What to Expect: You will get in-depth background plus steo-by-step instructions for how to locate and understand military service records of World War II veterans, plus how to find details about WWII casualties, including combat and non-combat deaths.
Families rarely knew what happened to their loved ones who died in WWII, and for most families, these questions remain unanswered. As Bill Beigel (and more than a thousand of his clients) can attest, learning these answers can be life-changing for veterans' families.
The workshop will also cover important military terms, with guidance and handouts on interpreting military files. Your admission fee includes Bill's step-by-step research instructions for all four branches of service (valued at more than $300) with expert training by professional researcher Bill Beigel.
You will have a chance to ask specific questions about your own research project and hear stories of some of the veterans and casualties Bill Beigel has researched and the clients he's worked for, highlighting the significance to families and the demand for this intensely personal and hard-to-find and information.
This is a live, 2-hour, interactive workshop, plus a 15-minute break and 15-minute Q & A. Bring your laptop or tablet if you have one, or a pen and paper for notes.
Click below to register via secure PayPal checkout. Reserve your seat today for August 17th in Torrance, CA. Save 50% for one day only! 
Admission: $79 



About Bill Beigel
Bill Beigel is a World War II historian, speaker, author, and researcher, specializing U.S. military service records from World War II and the Korean and Vietnam Wars. Beigel's research helps individuals, families, and civic groups learn the circumstances of military service and casualties in 20-Century wars, as next-of-kin usually received very little information during wartime. To date, Beigel has researched more than two thousand individuals for over a thousand clients in the U.S., Europe, and the Middle East.
Bill Beigel holds a BA in History and a Masters in Geography, both from UCLA. His clients are individuals, veterans groups, service organizations, communities, universities, and others who are seeking information on th. Bill Beigel's work has been featured in USA Today, Fox News, CBS News, Newsday, Los Angeles's Daily Breeze, War History Online, and dozens of other media outlets.  Beigel tours the country, speaking to genealogy groups, at conferences, at museums, schools, and other venues. He has been a featured speaker at the Association of Professional Genealogists (APG) Professional Management Conference in 2016 and again in 2017. A large collection of Beigel's research on members of the 8th Air Force is featured by the American Air Museum in Duxford, England. Beigel is the official researcher for the Kwajalein MIA Recovery Project. His book describing the "Return of the World War II Dead" program of the United States is awaiting publication.
To book Bill Beigel for your event, please email events@ww2research.com. For more information, please visit http://ww2research.com.