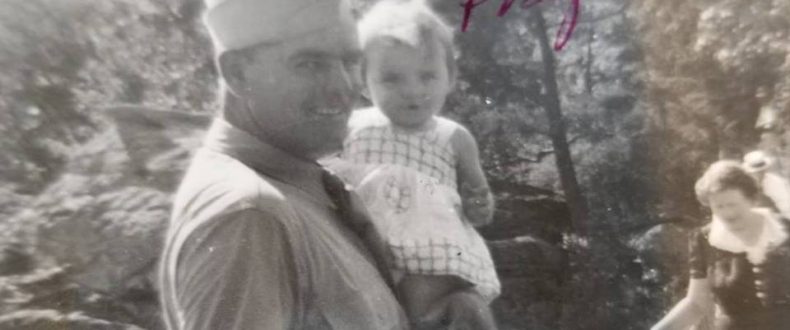 Parker Fondren's Daughter
Clients come to me from many places and for many reasons. Some come from universities or towns, hoping to learn about the WW2 military service of their students or citizens.
Some are from overseas, hoping to find out the story of a particular American serviceman who died in the liberation of their nation.
Many are family historians, such as Donna King of Tennessee. In September of 2017, Donna wrote to me with a poignant inquiry about her uncle, Parker Fondren. As many clients who are family members of veterans I research, Donna wanted to know the battle and location where he was killed.
"What are the details of the battle that took his life? What can you tell me about his military service? Family lore has it that he remained with the tank and provided cover for other soldiers."
All Donna knew for certain was that her Uncle Parker was killed on June 8, 1944, in "North Africa." She also mentioned that she and her family lost touch with Parker's widow and infant daughter.
I knew that in World War II, the US Army considered the North African Theater to include not only those desert nations that border the south of the Mediterranean, but Sicily and Italy, as well. Since combat operations had ended in North Africa in 1943 and knowing that Fondren died sometime in 1944, I surmised that her uncle had most likely died in Italy.
Parker Fondren was born on April 17, 1914, the son of Minnie Lee and Albert Fondren, of Savannah, Tennessee. His wife, Willie Wynn, and daughter, Phylis Lee, lived in Centerville, Alabama. Parker joined the Army on June 23, 1942, at age 28, making him one of the older men to join the Army during the war.
Assigned to Company F of the 91st Cavalry Reconnaissance Squadron, Parker was a veteran of a distinguished unit. Fighting across Tunisia, then across Sicily, and then driving north up the Italian Peninsula, the men of the 91st had seen a tremendous amount of combat. Servicemen from the 91st had already been awarded 15 Silver Stars, 3 Distinguished Service Crosses, and one Medal of Honor.
The 91st had fought battles up the length of Italy, including up the coast to the Neapolitan city of Gaeta, past the towns of Itri and Fondi, through the dangerous Pontine Marshes, up and down the Lepini Mountains, near Colleferro, outside the Italian capitol of Rome.
Soon, Rome itself, the first Axis capitol city to come within the reach of Allied arms, was in sight. On June 5th, the day before the Allied landings at Normandy, citizens of the famed city rushed out to greet their liberators, free at last after months of German occupation.
But though Rome was liberated by the Allies, German forces to the north continued to resist. About 50 miles northwest of Rome is the small town of Fabrica de Roma. It is such a tiny place that it warrants only a very brief Wikipedia entry. It was in this small town that Parker Fondren, by then a Technician 4th Grade, met his death on June 8th, 1944. Although his military file doesn't confirm the details of his last moments, or whether the "family lore" that Donna shared with me was based in fact, Fondren's military file told us that he was killed by "multiple gunshot wounds to his abdomen." His remains were identified by his dog tags and by his name on his wallet.
Parker was buried three days later in the military cemetery at Nettuno, Italy. In the ancient soil of the Italian Peninsula, he was laid to rest between two fellow soldiers, PFC Michael Lotfy of Boston, Massachusetts, to his right, and PVT Albert J. Wale of San Francisco, California, on his left.
Parker's few personal effects were gathered for shipment home. They were typical for an infantryman; among them were an Eversharp pen, his wallet, and a sewing kit.
In March of 1947, his widow, Willie, received a form from the Army, requesting her instructions for her husband's final burial, as his next of kin. She chose to have his remains brought home to Mount Herman Cemetery in Savannah, Tennessee. This was a rare privilege for American widows and bereft parents, as no other nation on Earth repatriated their military war dead after World War II.
However, like so many war widows, Willie re-married in November of 1947, after she submitted the disposition form, but before Parker's remains had been returned. Parker's family heard of the marriage and requested to the Army that since Willie had remarried, she no longer had rights as next of kin.
The Army agreed and now asked Parker's parents to decide his final burial location. In May of 1948, Albert and Minnie Lee Fondren instructed the Army to arrange for their son to be buried at Shiloh National Cemetery, in southwestern Tennessee.
Although some 115 nations of the world were involved in World War II, the United States was the only nation to provide this incredible gift to the families of the fallen. And so, four years after his burial, Parker's remains were removed from his grave for shipment home.
The body of TEC4 Fondren, along with the remains of hundreds of his fellow servicemen, was loaded onto the Army-manned transport ship USAT Carroll Victory, which arrived in New York on July 6, 1948. His body was then shipped via train to Tennessee, where he was buried on August 3, 1948.
And so the years went by, and Parker's family lost contact with his widow and their daughter, Phyllis Lee.
About six weeks after I began this project, I located the file for TEC4 Fondren. After reviewing the documents (about 55 pages in all) and preparing a detailed written report on its contents, I mailed the file and my report to Donna.
Donna responded the day she received the file. She said, in part:
"The correspondence between the War Department and the family regarding bringing his body home was interesting and sad. Seeing a copy of his widow's re-marriage certificate was quite remarkable. Lots of speculation as to how difficult it might have been to get that during that time period or how the family might have felt when she remarried.
 "It was also sad to read that she agreed to accept his belongings even though they were bloodstained."
 Armed with the information contained in the file, Donna went on a mission to find her uncle's daughter. Using her own impressive detective skills, it was only five days later that she sent me this note:
"Bill, you gave our family a wonderful gift for Veterans Day . . . and I want to share this gift with you . . . . Because of your work, we were able to find Parker's daughter, Phyllis Lee."
"She's alive and was 'delighted' to hear from me! After all these years, she's been living only 44 miles away from one of her first cousins . . ."
 She has Parker's wallet and his Purple Heart. She's also heard the story of the tank Parker was in being disabled and he was out trying to run for cover . . . . She also said a corner of the wallet was missing. . . ."
 "We're all set to meet [Phyllis Lee] this coming Saturday . . . just talked to her. She said she'd had a good life and her stepfather took good care of her . . . but there was always something missing with her father's side of the family.
 "She has been yearning to learn more about him and the Fondrens. And she said she was having to let it all sink in, too!
 ". . . [I]t's difficult to find the words to let you know exactly how grateful we are for your work . . . . [I]t was so special to be able to call her cousins yesterday to tell them the good news. . . .
 "Because of your help, the story of Sgt. Parker Fondren's life doesn't have to end on a negative note 45 miles north of Rome. Yes, his death was horrible and sad and heart-wrenching, but now the last chapter can be this wonderful ending. I also don't think it was a coincidence that we connected with Phyllis on Veterans Day."
 And so on the November 18th, the reunion occurred. Donna wrote to me the following day:
"Bill, we had an awesome visit yesterday with Phyllis Lee Fondren Branner . . . whom some of us hadn't seen in over 50 years and others of us hadn't even met. The attached picture from Phyllis pretty much sums up the emotion of the day. We're still trying to take it all in. We're planning a bigger family reunion Memorial Day 2018 at Shiloh National Military Park . . . you're invited!"
My research on Parker continues. I am now researching the After Action Report prepared by the 91st Cavalry Reconnaissance Squadron for the date he was killed. This Report will give a great deal of information on the battle that occurred that day, including information on the German forces being attacked, the location(s) of the unit that day, weather conditions, and much more.
Over the past two decades, I've researched more than two thousand veterans' service records for more than a thousand clients and families. It's more than gratifying when my research helps to reunite families. I am honored to have performed this work for Donna King and her family and grateful that Donna shared her family's happy reunion with me. And who knows, maybe I'll be at Shiloh National Military Park in Tennessee for the reunion next year on Memorial Day.
Photos: Fondren family photos. Used by permission.
TEC4 Park Fondren with his daughter, Phyllis Lee Fondren, circa 1940 or 41 
Phyllis Lee Fondren, age 12, holding relative, circa 1953
Fondren sisters at Shiloh National Cemetery (Fondren's mother, Minnie Lee, second from right), circa 1953
Fondren relatives at Shiloh National Cemetery, circa 1953
Shiloh National Cemetery, circa 1953
Phyllis Lee Fondren Branner at family reunion, Nov 2017, holding photo of herself at age 12 visiting the grave of her father, TEC4 Parker Fondren