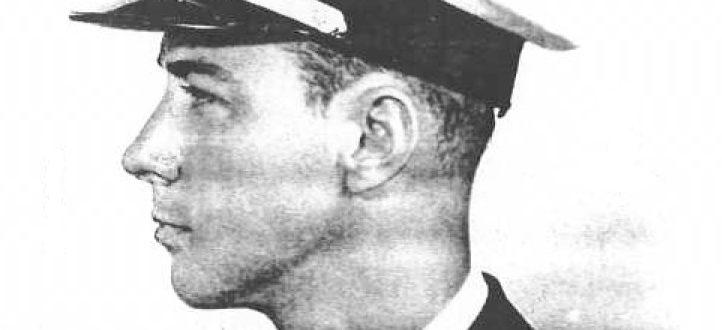 55 Miles From Kyushu
Lieutenant Volney Wright Taylor, Jr., was a promising young attorney with his family law firm in Brownsville, Texas.  The son of prominent citizens Volney Wright Taylor, Sr., and Ethel Cook Taylor, his legal future was unlimited.
As part of his application to enter officer training, LT Taylor received letters of recommendation from Assistant United States Attorney for the Southern District of Texas, the One Hundred and Third Judicial District; and Milton H. West, his local Congressman.
His physical condition was excellent, with only a tonsillectomy and a minor skin graft to mar his otherwise perfect record. His vision checked out at 20/20.  His '"apparent intelligence" and "interest and enthusiasm" were rated as "high."
LT Taylor officially joined the Navy on April 28, 1942, and, at 27 years old, probably seemed like an old man compared to some of those he was serving with.
He successfully completed flight school at the Naval Air Station at Hutchinson, Kansas,  and then was sent to Dallas, Texas, for advanced training in Air Combat Information.  He was next assigned to duty on the new aircraft carrier USS Franklin, on February 15, 1945.
By March of 1945, US Navy carrier task forces were ranging up and down the coast of Japan, in preparation for the upcoming invasion of the island of Okinawa.  With conventional tactics failing them, the Japanese military increasingly relied on the so-called "Special Attack Forces", otherwise known as "Kamikazes."
On March 19, 1945, the Franklin was operating about 55 miles from the southern Japanese island of Kyushu. This was the closest a US aircraft carrier had come to Japan during the War. Before dawn, with more than 30 aircraft on deck, all armed and fueled, two Kamikazes struck the vessel.  When the final casualty lists were tallied, 807 men were known to be dead, with another 487 wounded.  It was the worst death toll of a ship that actually survived in the history of the US Navy.
LT Taylor was near the hangar deck when the ship was hit; only two crew members out of hundreds survived the inferno there.  He was determined to be 'missing in action', and his remains were never found.
At the Buena Vista Cemetery in Brownsville, a headstone for Lieutenant Taylor sits in the family plot, next to his parents.  But his body was never recovered, and his earthly remains rest in the Pacific Ocean, 55 miles off the coast of Kyushu.