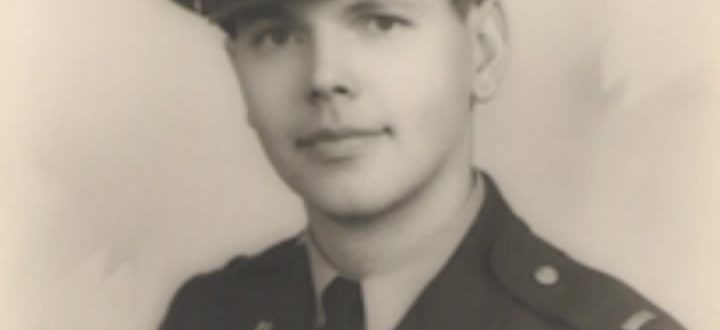 1 P-47 Destroyed: The story of Captain Jack Engman
By the time he left his base in England for another raid against German targets in Normandy on July 27, 1944, Captain Jack W. Engman was a veteran: a veteran in an Air Corps with so many young flyers that it was called "The Kiddie Corps."
Engman was a 20-year resident of the Los Angeles area and a graduate of Audubon Middle School and Washington High School. He entered the Air Corps at March Field in Riverside on September 26, 1941, and completed his flight training at Luke Field, in Glendale, Arizona, in April of 1942.
A newly-minted 2nd Lieutenant, he was assigned to a unit flying against the Japanese during the campaign in Alaska's Aleutian Islands. He was awarded the Air Medal for his work in that theater of the war.
In July of 1943, he married Mary Anna Coblentz.
By June 6, 1944, Engman, now a captain, was one of the many fliers to witness the invasion of France from the air. He was interviewed by a correspondent, and reported how he and other Allied flyers were almost shot down by mistake. He recalled flying over naval vessels, who gave him an unintentionally warm reception.
"Thousands and thousands of rounds of flak—more than I ever saw before in my life—were fired up at us," he said, in an article that was carried in dozens of newspapers across the United States.
His mission on July 27, 1944, was to fly cover for an American armored regiment, as well as to attack any German unit seen along the way. Along with three other P-47 Thunderbolts from his unit, the 391st Fighter Squadron of the 366th Fighter Group, 9th Air Force, his plane carried two 500-pound bombs. The four-plane group, known for the day as "Red Flight," flew a successful mission. Two German half-tracks were reported destroyed, and a staff car was strafed and destroyed.
But it was to be Captain Engman's final mission. In the Report of Operations for his unit, the terse comments read:
1 P-47 DESTROYED. CAPT JACK W ENGMAN. PLANE SEEN AFIRE. SEEN TO JUMP BUT CHUTE DID NOT OPEN. T-335545 (map coordinates) AT 1540 (3:40 pm) HRS."
He was buried as an unknown at the American cemetery at Marigny, France, but was identified within weeks by his dog tags, as well as his flight jacket, which was embossed with his name, and also by a laundry slip bearing his name. He was formally interred there on August 8, 1944, and was buried between two infantrymen, PFC William L. Grimes, of Illinois, and Private First Class Ralph L. Hockridge, Jr., of South Dakota.
Meanwhile, his personal effects and possession were inventoried at his base at St. Pierre du Mont, France. Among them were four pairs of pajamas, a flashlight, a whisk broom, and some money, which the government converted into a check in the amount of $23.41.
His wife, Mary Anna Engman, was his legal next of kin. However, on August 11, 1946, she married Merle L. Hamren, in Reno, Nevada, and therefore Captain Engman's parents, Arvid and Emma, took on that role.
The heart-rending decision that was now faced by Arvid and Emma was what to do with the remains of their son. The Army gave them, as it gave all Americans, a choice. The remains could be permanently interred at an American Battle Monuments Commission cemetery in France (or, in fact, any cemetery maintained by the ABMC), or returned to the United States, to the burial location of their choosing.
They received the Request for Disposition of Remains form from the Government in early November of 1947. On December 5th, they notarized their response, which was to have their son's remains brought home.
The US Army transport ship James E. Robinson left the port of Cherbourg, France, carrying the remains of Captain Engman and thousands of other American war dead, on November 17, 1948. It arrived in New York on December 13, 1948. Captain Edward J. Faison, himself a former fighter pilot from the 361st Fighter Group, accompanied the remains of Captain Engman, which were sent via train, to Los Angeles, where they arrived at 9:10 a.m. on January 20, 1949.
He is buried at Inglewood Park Cemetery in Inglewood, California.
It was a great pleasure to research Jack Engman for his widow's daughter, Chris. Mary Ann married a WW2 veteran after the war. It's wonderful that the family continues to honor the service of both brave men, and keeps alive the memory of Jack, who lost his life in service. –Bill
---
Photo credits: The 1943 wedding photo of Jack Engman and Mary Anna Coblenz provided by Chris Hamren Stine. From Aerosteles.net, a French aviation memorial web site, are images of a memorial plaque honoring CAPT Jack Engman and 2nd LT James L. Billington at a cemetery in Dangy, France. Service portrait of Jack Engman via Fold3.