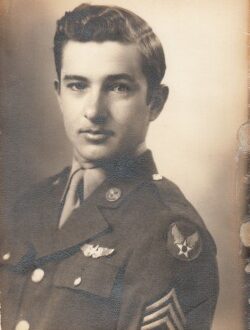 Johnnie Laughlin
He was a classic air-crew member: five-foot-seven, blue eyes, brown hair. At 122 pounds, he was on the skinny side. His home town was Mont Belview, located in southeast Texas, about 45 miles from the Louisiana state line. The son of Ernest and Pearl Laughlin, he was only 20 years old when he joined the Air Corps.
Sergeant Johnnie M. Laughlin manned the Top Turret Gunner's position for his B-24 Liberator crew with the 459th Bomb Group, 757th Bomb Squadron, based out of Giulia, Italy.
The pilot was Captain Philip F. McLaughlin, of Billings, Montana (photo credit: 459th Bomb Group). His fellow officers were 1st Lieutenant Herbert C. Hawkins, Jr., copilot, from Perry, Florida; navigator Captain Kenneth Kellow of Battle Creek, Iowa; and bombardier 2nd Lieutenant Adam Wiley of Drumright, Oklahoma; and radar navigator 2nd Lieutenant William E. Van Horn from Shillington, Pennsulvania. The radio operator was Staff Sergeant Leonard W. Fick of Murphysboro, Illinois; the flight engineer was Staff Sergeant Donald A. Sherman of Wheelersburg, Ohio.
There were two other gunners in addition to Johnnie: Staff Sergeant Robert J. Jones of Canon City, Colorado, and Sergeant George W. Pennington of Dayton, Ohio.
Their target on July 28, 1944 was the gigantic oil refinery complex at Ploesti, Romania. It had been attacked many times before and the German Luftwaffe was ready. Before the day was over, nine "Libs" from the 459th Bomb Group and the other B-24 groups of the 15th Air Force had been shot down.
Two men from the crew survived: the co-pilot, LT Herbert C. Hawkins, and the bombardier, 2nd LT Adam Wiley. After the war, Hawkins described the last terrible moments aboard their bomber:
". . . we were hit several times by flak. The plane caught fire. I had a call from the rear [of the plane] saying one man had his leg blown off, and then the ship blew up. The explosion blew me through the top to my waist and there I hung in the wreckage, burning until about 400 to 500 feet above the ground, at which time I broke loose, pulled the rip cord and hit the ground. [While falling] I think I saw my pilot . . . burn to death. The flames were all over us both, but he seemed to be burning terrifically."
Sergeant Laughlin and his crew mates fell to Earth near Corlatesti, about eight miles south of Ploesti, and were buried in a common grave. Since they could not be separately identified, they were eventually returned to the United States, and buried in a group grave at Fort Scott National Cemetery at Fort Scott, Kansas.
According to witnesses, Johnnie Laughlin's B-24 was hit about 10 seconds after the crew dropped its bombs.
Ernest Laughlin lived until 1969. Pearl Laughlin lived until 1995, when she died at age 94, having outlived her son by more than 40 years. Ernest and Pearl rest at the Cedar Crest Cemetery in Baytown, Texas.
I did this research for a relative of Johnnie (his grand-niece). As happens so often, the family had a hard time accepting the loss, both at the time and in subsequent years. Locating his records meant that Johnnie's family can both visit and care for his grave, as well as understand why a body was never sent home. I'm honored to join Johnnie's family in remembering Johnnie Laughlin and this brave crew.
[Photo credit: Johnnie Laughlin and cemetery photos courtesy of Jody Knowles via Find A Grave]
This version corrects the names of the survivors. The pilot, Captain Philip McLaughlin did not survive and is buried at Fort Scott National Cemetery, Kansas.