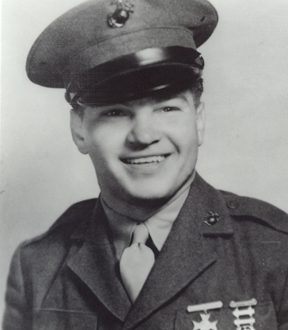 From "Satisfactory" to Medal of Honor
August 3, 2015 marks the 71st anniversary of the death of Frank Witek, by all accounts, a polite, but fairly ordinary kid from Chicago by way of Connecticut. Enlisting in the Marines after the bombing of Pearl Harbor, Frank continued building his "good guy" résumé – competent, but not exemplary. But Fate has a way of sorting out the truly heroic ones, by putting them in situations where they can't be anything else. Frank Witek distinguished himself in the most extraordinary way, when his unit was supposed to be on leave after participating in very heavy fighting. This is his story —
* * * * *
Frank Peter Witek was born in Derby, Connecticut, on December 10, 1921, the son of Jacob and Nora Witek. His family, which included two sisters (Jean Christy and Stephanie) and three brothers (Paul, John, and Joe; one of whom served in the Army, another in the Air Corps), moved to Chicago when Frank was nine years old.
At the age of 20, Witek must have been moved by the attack on Pearl Harbor like so many young men and women were after the 2001 attacks on the World Trade Center: He rushed to enlist less than a month after the attack.
Witek's mother, Nora, of 1731 N. Harding St., Chicago, was required to provide her consent for "Enlistment of a Minor in the Marine Corps" before he could enlist. She provided her consent on January 17, 1942, and he enlisted on January 20. At the time, Frank was working as a laborer at the Standard Transformer Company, for a weekly wage of $33.
Along with his enlistment paperwork, he also submitted character references. One, from Mrs. Lattie Stachhur, stated ". . . he respects his elders, never causes any trouble, and is liked by all who come in contact with him." Another, from a Mr. Stanley Musolff, added ". . . I have known Frank Witek for . . .  about twelve years. During this time he has impressed me as a lad of high moral character and one who would succeed at anything he attempted."
Frank designated his mother as the beneficiary of his National Service Life Insurance, in the amount of $5,000, for which he paid a monthly premium of $3.25. His first day of active duty was January 20, 1942, at the Marine Corps Recruit Depot in San Diego.
His basic training included courses in close order drill; service rifles; automatic .45 pistols; rifle and hand grenades; scouting and patrolling; field sanitation; military courtesy; combat principles; and others. He passed all his classes with a mark of "satisfactory."
After fighting in three major battles in the Campaign of Bougainville, PFC Frank Witek and his unit were sent to Guadalcanal, at last secured from enemy attack, for a rest and recovery period.  But it was to be a brief respite.  On July 21, 1944, Witek's Third Marine Division invaded the island of Guam, where Witek was to lose his life amid stunning acts of bravery.
Major Harold C. Boehm, of the 1st Battalion, 9th Marine Regiment, witnessed the events which led to Frank's award of the Medal of Honor. This is his report:
"On August 3, 1944, during the Battle of Finegayan, I had gone forward to check on contact with the Third Marines on our left, and was thus occasioned to be with Company "B," the left assault company of the battalion. During a very critical and indecisive stage of the action I personally observed Private First Class Frank P. Witek, U.S. Marine Corps Reserve, armed with an automatic rifle, advance forward of the tanks which were spearheading the attack at the time, with apparent determination to silence a heavy machine gun which was obviously causing the attack to bog down in that sector. Although he must have known that his chances of remaining unscathed were slim, he continued to move in on the Jap gun, slowly and deliberately, in assault fire fashion, alternately firing and throwing grenades, until within five or six yards of the position when he was shot down by rifle or machine gun fire from another section of the enemy's line. He had succeeded in completely wiping out the machine gun nest and it was never re-manned.
It was essentially due to Private First Class Witek's action that his platoon was able to continue its attack and subsequently seize its objective. I would not hesitate to say that his single act contributed materially to the capture of the Finegayan road junction with so few casualties."
On August 3, 1943, at about 9:30 a.m., PFC Frank Witek was killed by a gunshot wound to the left temporal area of his head. Of the 240 rounds he carried into that gunfight, he had only eight cartridges left when he was found.
Frank was initially buried at Army, Navy, Marine Corps Cemetery # 1 on Guam, in Grave 21, Row 21. Among the personal effects returned home to his mother were ". . . 2 dimes, 5 pennies, 2 nickels, 1 wrist watch, 1 cigarette lighter and case, $70 in checks from Milwaukee Avenue National Bank . . ." as well as a number of New Zealand coins.
After his mother was notified that he had won the Medal of Honor, and that it would be awarded in Washington, DC, she requested that instead it be given to her in Chicago, due to the difficulty of wartime travel.
On Sunday, May 20, 1945, his mother, General Alexander A. Vendegrift, Commandant of the Marine Corps, and fifty thousand citizens met in Soldier Field, Chicago, to honor PFC Frank Peter Witek, dead at the age of 23 in service to his country.
His Medal of Honor citation reads:
The President of the United States takes pride in presenting the MEDAL OF HONOR posthumously to
PRIVATE FIRST CLASS FRANK P. WITEK
UNITED STATES MARINE CORPS RESERVE
For service as set forth in the following CITATION:
For conspicuous gallantry and intrepidity at the risk of his life above and beyond the call of duty while serving with the First Battalion, Ninth Marines, Third Marine Division, during the Battle of Finegayan at Guam, Marianas, on 3 August 1944. When his rifle platoon was halted by heavy surprise fire from well-camouflaged enemy positions, Private First Class Witek daringly remained standing to fire a full magazine from his automatic point-blank range into a depression housing Japanese troops, killing eight of the enemy and enabling the greater part of his platoon to take cover. During his platoon's withdrawal for consolidation of lines, he remained to safeguard a severely wounded comrade, courageously returning the enemy's fire until the arrival of stretcher bearers and then covering the evacuation by sustained fire as he moved backward toward his own lines. With his platoon again pinned down by a hostile machine-gun, Private First Class Witek, on his own initiative, moved forward boldly ahead of the reinforcing tanks and infantry, alternately throwing hand grenades and firing as he advanced to within five to ten yards of the enemy position, destroying the hostile machine-gun emplacement and an additional eight Japanese before he, himself, was struck down by an enemy rifleman. His valiant and inspiring action effectively reduced the enemy's firepower, thereby enabling his platoon to attain its objective, and reflects the highest credit upon Private First Class Witek and the United States Naval Service. He gallantly gave his life for his country."
Signed, Franklin D. Roosevelt
As part of the Return of the World War II Dead Program at the end of the war, PFC Witek's remains were brought home and buried in the Rock Island National Cemetery, Rock Island, Illinois, in 1949.
In November of 2011, the bronze plaques dedicated to him at the park named in his honor in Derby, Connecticut, were stolen. Their estimated value was $10,000. The plaques were replaced at a great cost and rededicated in a ceremony on September 22, 2012.
* * * * *
In addition to the Medal of Honor, PFC Witek also earned a Purple Heart. His other honors include:
A Gearing-class destroyer, the USS Witek, was named in his honor and launched February 2, 1946, and christened by his mother. It was decommissioned in 1968.
His hometown of Derby, Connecticut named the PFC Frank P. Witek Memorial Park in his honor.
The Marine Corps Scholarship Foundation awards a scholarship in his honor.
An area near where he was killed in Guam was named Marine Camp Witek; locals call the area "Camp Witek" to this day. (Source, Wikipedia)
I researched PFC Frank Witek, not for a client, but for my own interest. I'm more than honored to dedicate this article to his memory.
–Bill