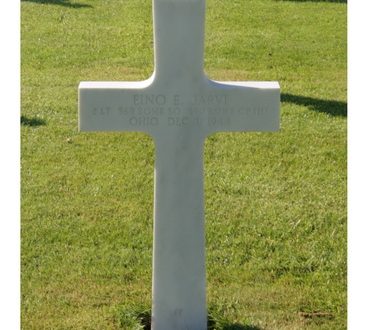 The Adoption of 2nd LT Eino E. Jarvi, 8th Air Force
The weather was listed as CAVU: Ceiling Absolute, Visibility Unlimited on December 31, 1944.  B-17 tail #43-38247, with no nickname of record, got in line to take off, along with hundreds of other heavy bombers.
The crew, along with pilot 2nd LT Walter Monit, set off from Framlingham, England, for the day's target: the German city of Hamburg. The crew's navigator, 2nd Lieutenant E. Jarvi, was from a Finnish family that had settled on Michigan's Upper Peninsula to work in the area's extensive copper mines. The mission was his eighth – and his last.
A brief note in the crash report explained: "A/C 247 was hit by flak over target at 1154 hours after bombs away. At 25,800 feet. left wing was on fire and A/C peeled off to left out of Formation and then exploded. No chutes reported seen."
The four surviving crew members were questioned by the Army Air Force after the War to determine the fate of LT Jarvi and the other five aboard who died. The Top Turret Gunner, Sergeant John A. Mullins, of Denver, provided what little information he knew of the crash. His frustration at his lack of knowledge of what happened is evident in his message:
I am very sorry, that I can't give you hardly any information about the crew members of my crew that were killed or missing in action…

We had just dropped our bombs at a Synthetic oil plant at Hamburgh (sic) when we were hit by flak in a Gas tank and immediately caught fire. I seen the fire (illegible) and before I knew what I was doing, I had my chute on…and I lost Consciousness, the ship flew off, and broke up or something. When I regained consciousness, the ship was out of sight, except for a few little pieces floating around. All I seen was two more chutes floating down, which turned out to be Sgt Read (and) Sgt Coulbourn…

Although I realize the relatives are very dissatisfied, and I would do anything that I possibly could to help them…but if you don't know no (sic) any information you can't give it, and I would hope this satisfies your office, that I knew no other information.
2nd Lieutenant Jarvi is buried in the Ardennes American Cemetery in Neupre, Belgium, in Plot D, Row 38, Grave 17.  His grave has been "adopted" by a woman from the Netherlands, living near the crash site, who has hired me to find out more about Lieutenant Jarvi.
I was so moved by the letter that my client sent to me that I wanted to share it with you:
"With great honour i have got the privilege to take care of the grave from the veteran Jarvi Eino E, a navigator from a B-17 who is killed in action 31-12-1944 on the raid to Hamburg Germany, He was serving with the 569 Sq/ 390 Bomb Gp Heavy.

The location of the veteran is in the Belgium ardennes at Neuville Condroz, Plot D, Row 38, grave 17.

I try to get all the information from himself [sic] and trying to contact his family in the states so that they know there is taken care [sic] about 2 Lt. Jarvi, and all the information and photographs what is available from his Sq and bomb group, for a dossier.

We will take care of his grave for the next 10 years and if possible for a longer time, they [sic] may never be forgotten and it is our duty to pas it trough [sic] for the next generations.

Maybe you can help me further with searching for any information?"
A future blog post will provide more information on Lieutenant Jarvi's military service and a closer look at his final mission. In addition, I will locate all records of the recovery and identification of his remains, copies of correspondence between the Air Corps and his next of kin, a list of his personal effects and possessions left behind at Framlingham, the forms signed by his next of kin authorizing his burial in Belgium, and much more.