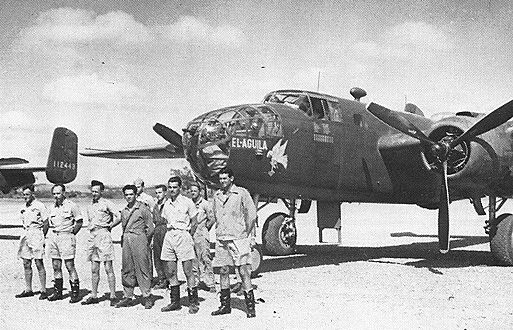 LOST B-25 "El Aguila" ("The Eagle") With Crew and Passengers
It was an ordinary flight, an "Administrative" mission. A B-25 "Mitchell" bomber, nicknamed "El Aguila" ("The Eagle") was ordered to make a cross-country flight, from Nadzab, on the island of New Guinea, to Owi Island, off the north-east coast of this large Pacific island.  Weather forecasts included some light rain, but no major problems were foreseen.
The bomber left the field at Nadzab on August 30, 1944, as scheduled, but did not reach Owi Island.  It was years later that the downed aircraft was found in a mangrove swamp in West Papua. The remains of the eleven on board were sent home and buried in a group marker at the Jefferson Barracks in 1950.
Crewing the plane were:
Major Brooks Rives, Jr. (Louisville, MS)
1st Lieutenant Wayne B. Howard (Nash, OK)
Staff Sergeant Joel N. Whitten (Houston, TX)
Staff Sergeant Francis H. Stoeber (Cando,ND)
The seven passengers were:
Major Leroy H. Richardson (Savannah, GA)
Major Eugene G. Robinson (Burnett, MN)
1st Lieutenant George Shatzman (Chelsea, MA)
Staff Sergeant Lee S. Kercheval (Ordway, CO)
Sergeant Weaver L. Thomas (Logansport, LA)
Corporal Stanley McCloskey (Washington, PA)
Corporal Myron G. Nolin (Fargo, ND)
Downed fliers lost the Pacific area were often kept in a "Missing in Action" status for a long period of time after they were lost.  Since the Japanese did not keep good records for whom they had captured, the possibility always existed that, at the end of the War, missing personnel would turn out to have been POW's all along. But this was not the case for these men, and shortly after the War, they should have been recorded as fatal casualties from their home counties.
However, of the eleven men aboard, only Staff Sergeant Stoeber was ever listed as a fatal casualty from his home county (Towner County, ND).  With one exception, the crewmen and passengers involved in this incident are not appropriately cataloged as WWII dead in the majority of nation's memorial sites or databases.
I NEED YOUR HELP! If you knew one of these men, please contact me, I would like to try to correct this. I am working with a relative of SSGT Whitten on this project.
Please share this post on your social media channels and help us locate living family members and comrades of crew and/or passengers. #WW2  #B-25 #ElAguila
For more information about the origin and history of this B-25 bomber, visit PacificWrecks.org ; image used by permission.
Featured image in this post by Jack Heyn via "Australia @ War" at www.ozatwar.com. Used by permission.