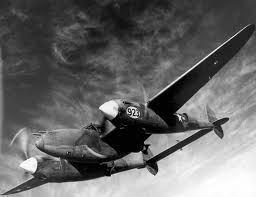 Photo Recon: DDay
The 7th Photo Reconnaissance Group received a Distinguished Unit Citation for its operations during the period of May 30 to June 30, 1944, when its coverage of bridges, marshalling yards, canals, highways, rivers, and other targets contributed much to the success of the Normandy campaign.
Even on June 6th, the group was in the air, taking photos of the evolving battle scene in the French countryside.
One of their flyers, First Lieutenant James E. Wicker, of Monticello, GA, left the base of the 7th at Mount Farm, England, in the afternoon of June 6, 1944.  His aircraft was an F-5C, a P-38 "Lightning'"especially modified for high altitude photo work.
The day's mission was to survey enemy troop concentrations at Chateaudun, France. There was 8/10 cloud cover, but visibility was ten miles.
At the target, heavy anti-aircraft fire was encountered. First Lieutenant Irl R. Cosby, Jr. was flying with Lieutenant Wicker.  He reported that:
At Chateaudun I was flying about one (1) mile ahead of Lt. Wicker. I radioed to him not to follow me through the area on account of heavy flak. He did not answer. Upon looking around to see where he was I saw nothing but a cloud of black smoke rising from the ground…."
Miraculously, Lieutenant Wicker lived through the crash of his aircraft.  He was captured by German troops on the ground and eventually sent to Luft Stalag 7A, in Moosburg, Bavaria. He survived his captivity and was returned to the United States on May 30, 1945, having been a Prisoner of War for just under a year.