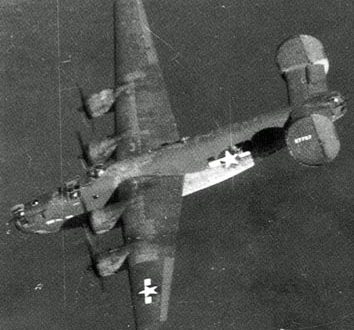 Three Sprained Ankles
Luck played such a large role in it all.  For some, Lady Luck frowned, but for others, she gave her friendliest smile.  Such was the case for a crew with the 451st Bomb Group of the 15th Air Force, B-24 tail # 42-7757, nicknamed "Windy City".
On June 6, 1944, flying back to Italy from their target, the oil fields of Ploesti, Romania, "Windy City" was hit by German anti-aircraft.  The bombardier, 2nd LT Alex Chesbowitz, told what happened next:
"About 1200 the plane caught on fire; we were 50 miles south of Belgrade. All crew members bailed out at 10,000 feet altitude. We were then brought together on the ground by the Chetniks and given food and shelter…"
And the luck of the crew of "Windy City" continued.  Shortly after the crash, the pilot, 2nd Lieutenant William R. Harris, was able to send a cable to the War Department in Washington, DC.  He notified them that the entire crew of his bomber was safe, and would be waiting at an airfield in Yugoslavia for rescue.  In fact, over 40 American and Royal Air Force flyers were waiting there.  By August 11, 1944, the crew of "Windy City" was safe back in Castelluccio, Italy.
The only injuries sustained by the crew?  According to LT Harris, just "three sprained ankles."
The crew of "Windy City" was:
2nd Lieutenant William R. Harris, Jr. (Plymouth, IN)
2nd Lieutenant Donald J. Smith (Chicago, IL)
2nd Lieutenant Floyd C. Pedersen (Elizabeth, NJ)
2nd Lieutenant Alex Chesbowitz (Brooklyn, NY)
Technical Sergeant Richard D. Gilson (Council Bluffs, IA)
Staff Sergeant Clell M. Card (Los Angeles, CA)
Staff Sergeant Willie L. Gantt (Leesville, SC)
Staff Sergeant Frederick S. Koffel (Belfry, PA)
Staff Sergeant Richard H. Knowlton (Caspar, WY)
Staff Sergeant Denzil D. Radabaugh (Masontown, WV)
The B-24 shown in photos 1 and 2 in this post are the actual plan in this incident; however, the crew shown in photo 2 is unidentified. If you can identify any of the crew in this photo, I'd love to hear from you.