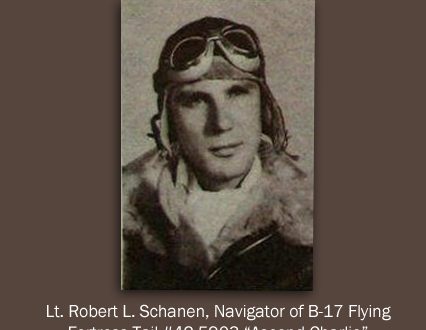 Lt. Robert L. Schanen, Navigator of "Ascend Charlie"
Yesterday, I received this email from the relative of the navigator on Ascend Charlie's final mission. Ascend Charlie was a B-17 Flying Fortress (tail #42-5903) from the 390th Bomb Group, 571st Bomb Squadron. You can read my full article on "Ascend Charlie's" last mission here..
Dear Mr. Beigel,
I just want to thank you for the piece you wrote about the "Ascend Charlie'" crash. Lt. Schanen was my grandmother's cousin and she speaks so fondly of him. I had always known he was killed in a plane crash, but have been told it was in Scotland. Now that I live on Oxfordshire, I intend to visit the crash site this summer, now that I know where it is, in Wales.
I was moved to tears by the story and will be calling my grandmother (who is 93) to share it with her. Thank you, thank you!
Here is a picture of Lt. Schanen for you.
It is signed only, "Dawn."
Thank you, Dawn. It is for families like yours that I do this work, and to honor their service.
–Bill