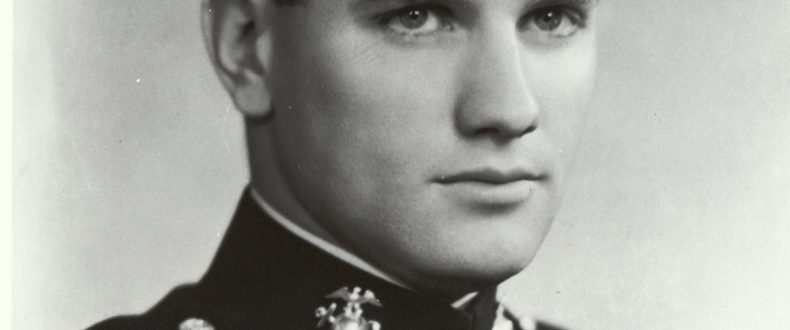 Honoring Lt. George H. Cannon, USMC, on Medal of Honor Day
On December 7, 1941, 1st LT George H. Cannon, age 26, was assigned platoon leader of Battery H, 6th Defense Battalion on a critical power station on Sand Island near Midway. In addition to his duties as platoon leader, Cannon was on a task force to try to decode intercepted Japanese messages.
On the same night as the Japanese attacks on Pearl Harbor, Japanese destroyers launched a ferocious attack against Sand Island, intending to cripple the island's airfield and provide safe passage to Japan's aircraft retreating from their attack on Pearl Harbor.
During the attack, a mortar landed inside island's heavily-armored power station. For the Japanese, it was a lucky shot. For the U.S. Marines inside, it was disastrous. If the shell had hit the station's outside wall, the men inside would probably not have been injured. As it was, the mortar found its way into an air vent and straight into the communications control room. Lt. George H. Cannon, mortally wounded, wouldn't leave his wounded men or his post.
He was the first U.S. Marine to receive the Medal of Honor in World War II. This article is dedicated to his memory and his bravery.
~~~
George Ham Cannon was born in St. Louis, Missouri, on November 5, 1915, the son of Benjamin Bartlett Cannon and Estelle Ham Cannon. Benjamin died of appendicitis in 1931. George's family, made up of his mother, one brother, and one sister made their home in the St. Louis suburb of Webster Groves, before moving to Michigan.
He suffered the usual childhood illnesses and accidents: measles at age 6; a broken right wrist at age 8, and another broken wrist, this time his left, at age 12.
An honor student at Detroit's Southeastern High School, he graduated in 1932, and was a member of the school's orchestra; string ensemble; chess club, and magic club. (Tragically, 152 Southeastern High School students were killed in military service in World War II.) Cannon then attended the Culver Military Academy in Culver, Indiana, prior to beginning his collegiate career at the University of Michigan.
While at Michigan, he continued his interest in music. He was a member of the school's orchestra, band, and choral union. He was also a member of Scabbard and Blade, a military training organization, and Sigma Phi fraternity. He even continued his interest in "moving the pieces," as a member of the school's chess club. He graduated with a degree in Mechanical Engineering in June of 1938.
Only a few days after graduation, he joined the Marine Corps as an officer candidate, and began his career at the Philadelphia Navy Yard. He did well in training and was consistently rated "very good" and "excellent" on his annual fitness reports. His duty posts were typical for a young officer just before the war: he served at Quantico, Virginia; San Clemente Island, California; and Pearl Harbor, Hawaii. He even served some temporary duty at the Sperry Gyroscope Company in Brooklyn specializing in the fire control equipment manufactured by the firm.
With war imminent in the Pacific, he sailed with his unit (the Machine Gun Group of the 6th Defense Battalion) from Pearl Harbor aboard the transport ship USS Wharton, and arrived on Midway Island on September 11, 1941. In a letter to his mother, written about this time, he told her the ominous words "We're going to fight the Japs [sic], and I won't be back." (See newspaper clipping in the photo gallery.)
As its name suggests, Midway lies nearly halfway between Hawaii and Tokyo, thereby making it a vital base in any transoceanic conflict between the United States and Japan. As US military forces tried to improve their defensive positions on the atoll, Cannon was named platoon leader for artillery Battery H on the island. In addition, he served as a member of the Battalion Coding Board, attempting to translate any intercepted Japanese radio messages.
His command post at the power plant was hit by heavy fire from a Japanese cruiser and destroyer, firing at very close range on a moonlit night with excellent visibility. At about 9:35 p.m., the mortar came screaming in through the air vent and exploded inside the station. Lieutenant Cannon was struck by shell fragments, crushing his pelvis, severing his femoral artery, and braking both the tibia and fibula in his left leg.
Cannon was among the first to be wounded in the attack, but refused to be evacuated, instead overseeing the evacuation of his wounded men, re-establishing command of his post in the face of his imminent death, and ensuring that communications were restored at the station, while the attack on the power station continued.
Finally, he was forcibly removed and given medical attention. But because of the length of time he remained at his post with such severe arterial bleeding, he bled to death at about 10:15 p.m., about 40 minutes after the attack.
In addition to the Medal of Honor, First Lieutenant George Cannon was awarded the Purple Heart, American Defense Service Medal with Base Clasp, Asiatic-Pacific Campaign Medal; and the World War II Victory Medal posthumously.
Lieutenant Cannon's Medal of Honor citation reads,
For distinguished conduct in the line of his profession, extraordinary courage, and disregard of his own condition during the bombardment of Sand Island, Midway Islands, by Japanese forces on December 7, 1941. Lieutenant Cannon, Battery Commander of Battery "H," Sixth Defense Battalion, Fleet Marine Force, U. S. Marine Corps, was at his Command Post when he was mortally wounded by enemy shell fire. He refused to be evacuated from his post until after his men, who had been wounded by the same shell were evacuated, and directed the reorganization of his Command Post until forcibly removed, and as a result of his utter disregard of his own condition he died from loss of blood. /s/ Franklin D. Roosevelt
Published records do not reflect this, but his Official Military Personnel File (OMPF) shows that George Cannon was promoted to Captain before his death notified (see photo gallery). He was killed before he could be notified.
Lieutenant Cannon's remains were removed from the island shortly before it fell to the Japanese He was initially buried at a temporary Marine cemetery in Halawa on the big island of Hawaii. His mother, Estelle (Charlotte Estelle Cannon, nee Ham), directed that his remains be moved only a short distance to the Punchbowl Cemetery on Oahu. He was buried there in April of 1949. Estelle died at age 71 in Ann Arbor, Michigan, in 1952.
A newspaper clipping dated January 9, 1942 revealed a prophetic conversation between George and his mother when he left for the war. The clipping reads,
"Midway Prophecy Made 3 Months Ago – Ann Arbor, Mich. – Before leaving for Midway Island three months ago, Lieut. George H. Cannon, 26, of the United States Marine Corps, told his mother, Mrs. B. B. Cannon 3d: 'We're going to fight the Japs [sic] and I won't be back.' Today Mrs. Cannon was notified that her son was killed during a Japanese naval assault on Midway Island on the night of December 7."
A note attached to this newspaper clipping by the P.R. Department of the USMC includes a handwritten note, "How does she get the news, when I understand Hq. U.S.M.C. knows nothing about it?"
~~~
George's older brother, Ben, who clearly idolized his younger brother, wrote a letter to commandant of the Marine Corps less than two months after George's death:
"When I saw him in San Diego last summer my heart turned as heavy as lead because I knew I would never see him again. Even if it hadn't happened, it would have been somewhere else, because he was bound to mix it up with them until he fell, dragging a dozen with him…I know that a point blank blast from their guns couldn't drive him from his post or keep him from getting his dozen.
"He joined the Marines in 1938 because of a genuine fear for the safety of his and our country, and never once did he falter . . . . In selecting the Pacific area last year, he went where he thought the danger was greatest . . . .
When I saw him in San Diego last summer my heart turned as heavy as lead because I knew I would never see him again. Even if it hadn't happened at Midway, it would have been somewhere else, because he was bound to mix it up with them until he fell, dragging a dozen with him. I was worried until the Washington dispatch disclosed that two Jap [sic] warships were damaged, but now I know that a point blank blast from their guns couldn't drive him from his post or keep him from getting his dozen.
I'm sorry for carrying on to this length, but to me George Washington has just lost first place."