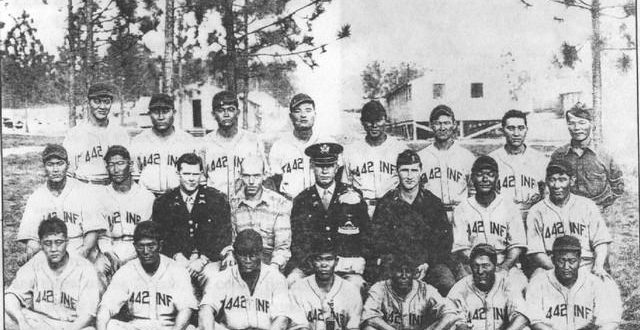 "Devastating Hitter" Hideo Akiyama
Eleele, on the island of Kauai, was a tiny town. It is on the southern side of the island, where the Ko'ula River empties into the Pacific. But it was home to Hideo Antone Akiyama, born July 2, 1912 (although he is listed on some forms in his file as having been born in 1922). He grew up there with his father, Fumichici, his brother, Hisoto, and his sister, Betsy.
Before high school, Hideo began working for the Territorial Highway Department; by 1943, he was making thirty dollars per week as an engineer's assistant. In addition, he was a shortstop in the Hawaiian amateur league, and was known as a "devastating hitter," according to the website Baseball's Greatest Sacrifice, which records the military service and death of baseball players who perished in World War II.
All over the Islands, young Americans of Japanese descent were enlisting in the Army, and Hideo was no exception. On March 23, 1943, he took his induction physical down the road at the local school in the town of Hanapepe. He easily passed the exam. His eyesight was 20/20 in each eye, and hearing was rated as perfect in each ear. His height was listed as 5' 3 ½" tall, 140 pounds. His hair color was black, and his complexion listed as "dark," with brown eyes.
With his fellow Japanese-American soldiers, he was sent to Camp Shelby, Mississippi, just south of the town of Hattiesburg. His experience training there was typical, other than a case of German measles he caught, which sent him to the base hospital on May 29. Also like his fellow soldiers, he attended the required "Sex Morality Training" course on August 7, 1943.
He was granted a furlough between September 28 and October 12. He then attended "Advanced Infantry" training at Fort Meade, Maryland, where, on February 3, 1944, he injured his foot "in organized athletics at 16:30" (4:30 p.m.). It's conceivable that he was playing in a company or battalion baseball game when he was injured.
His unit, the all-Japanese-American (with the exception of most officers) 442nd Regimental Combat Team, Company C, arrived in Naples, Italy, on June 2, 1944. Only a few weeks later, the unit was in combat.
The town of Cecina, Italy is on the western coast of Italy, not far south of Pisa. In June of 1944, it was heavily-defended by the German Army, including the newly-arrived 16th SS Panzer Grenadier Division. The town was the key to the coastal route running along the coast of the Adriatic Sea. It was in this area that the 442nd experienced its first taste of combat.
On July 9th, Private First Class Akiyama was hit with "shell fragment to the right side of the abdomen, and the right thigh," while his unit was attacking near the town of Casale, not far from Cecina. He was evacuated from the battlefield, but died on the 10th at the 33rd Field Hospital. He was one of two men in his unit to die this day. Sadly, it was not until July 24th, two weeks later, that his brother Hisoto even received notice that Hideo was "seriously wounded," and a few weeks more before Hisoto received notice of his brother's death.
Two days after he died, Private First Class Hideo Akiyama was laid to rest at the large U.S. military cemetery at Follonica, Italy. He was buried between Private Nicholas J. Trunfio, of Philadelphia, the 168th Infantry Regiment, and Private First Class Frank Vasques, of Van Wert, Ohio, and the 363rd Infantry Regiment.
Sometime late in 1948, his remains were loaded aboard an Army vessel at Leghorn, Italy, for the long voyage home. PFC Akiyama's family wished to have his remains returned home to Hawaii, as was their right. This process was done entirely at government expense. After landing in the United States, his remains were sent by train to the Pacific coast, then loaded aboard another vessel, and eventually shipped to Port Allen, Kauai.
He was buried in the Kauai Veterans Cemetery in 1949. Hideo was apparently as devastating in combat as he was in baseball. At the time of his death, his superiors rated him: Character: Excellent; Efficiency Rating as a Soldier: Superior.
***
Further reading: Please see my newsletter archive for more on PFC Hideo Akiyama and the 442nd RCT, and the Wikipedia articles on the 442nd Infantry Regiment (Motto: "Go for broke") for a gripping description of the 442nd Regimental Combat Team's incredible commitment to their country and to the war effort, and of their ingenuity and ferocity in battle.
Images in this post: 1) 442nd Regimental Combat Team baseball: – Players unidentified. It is unknown whether Hideo Akiyama played on the team, although it's hard to imagine that he didn't, especially in light of the injury mentioned above; 2) 100th Infantry Battalion Training: An instructor demonstrates how to use grenades. Due to changes in the organization in wartime, there was considerable overlap between the 100th and the 442nd Infantry Batallions. Men in this photo are unidentified. 3) Three men from the 442nd in front of a sign with the regiment's slogan, "Go For Broke." The slogan seems a poignant demonstration of the loyalty of these Americans, who left internment camps where they were imprisoned with their families, to defend their country against Japan and other enemies. 4) Hideo Akiyama.