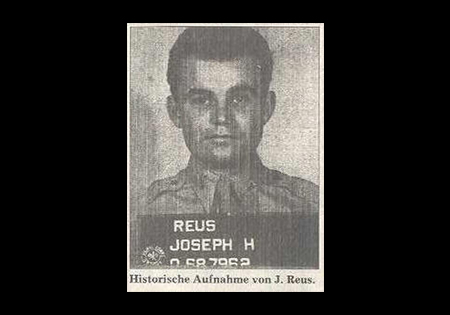 Shot Down Twice
People who visit ancient battlefields or ruins of ancient cities will see evidence of great dramas played out, but they may be left with many more questions than answers. Who were the actual men who fought in the wars? What were their experiences? Their thoughts? Their fears? Who were their families and their friends?
Sadly, the answers to most questions like this are lost in the distant past.
Fortunately for me, I am an historian who researches the American flyers of the 8th Air Force, flyers who played an incredible role in bringing Nazi Germany to defeat. Though the war ended seventy years ago, some of these men still walk among us, living reminders of their great achievement in the Second World War.
On October 15, 2015, I had the privilege of giving a keynote presentation at a reunion of surviving flyers of the Mighty 8th Air Force, along with their families, at the 8th Air Force Historical Society Reunion in Omaha, NE. It was at this event where I met Joseph Henry Reus of Baltimore.
2nd Lieutenant Joseph H. Reus, "Joe," served as a bombardier for the 445th Bomb Group, 703rd Bomb Squad, flying B-24 "Liberators" out of Tibenham, England. At the reunion, he described to me how he was shot down not once, but twice, less than two months apart in World War II.
He told me of the first event, which occurred on December 30, 1943. His bomber, nicknamed "Big Joe," took battle damage and went down off Beachy Head in the English Channel. Of the ten on board, only six survived the ditching. He vividly recalled the death of the plane's copilot, 2nd Lieutenant Charles H. Clemens.
On return to England, he was sent to a local hospital. Patched up in about 8 weeks, he was assigned to another crew with the 445th Bomb Group. On February 24, 1944, during "Big Week" (the efforts of the Combined Bomber Offensive to destroy the German aircraft industry), the 445th joined hundreds of other bombers in the skies over Germany.
Over Breitenbach, Germany, his bomber was hit and went down, one of thirteen B-24's lost by the 445th on this date. Of the nine on board, eight, including Joe, survived to become prisoners of war in Germany at Stalag Luft I.
"I only flew two missions," Joe told me. "Got shot down both times."
He also earned two Purple Hearts, which, in typical fashion of the Quiet Generation, he didn't mention to me.
Joe next told me about the treatment he received as a POW, which he recalled as "not too bad." He also shared his feelings about the great moment when he and his fellow "Kriegies" were liberated by the Red Army at the end of the war.
I appreciate the opportunity I was given to attend the Reunion of the 8th AAF Historical Society and am honored that I was invited to speak to the group at their dinner on October 15. But what I will always remember was the chance that I had to speak to Joe Reus, and to look back into history in a very special way.
Image: A German newspaper image of bombardier 2nd LT Joseph Reus as a prisoner of war, accessed through a Finnish web site (merkki.com) about World War II prisoners of war. Joe Reus and fellow POWs were freed by the Russians from Stalag Luft I in April 1945. You can read more of Joe's remarkable story in this article in the Omaha World-Herald.