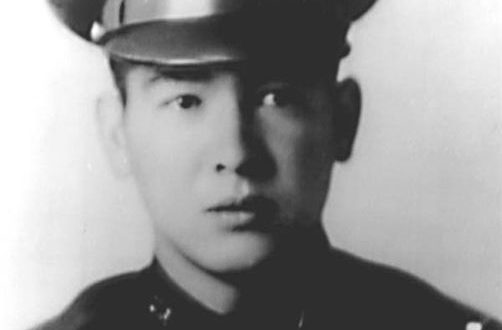 Medal of Honor Recipient Capt. Francis Wai
Francis Brown Wai was born on April 14, 1917, in Hawaii. Francis was the son of Kim Wai and Rosina Wai. Kim Wai had immigrated to Hawaii from China; in Hawaii, where he established himself as a successful banker and was both well-known and well-regarded. Francis, Kim's eldest child, had three brothers and one sister. Francis was an avid athlete and graduated from Hawaii's elite Punahou High School in 1935.
He attended Sacramento Junior College from 1936 – 1937, where he played quarterback in Panther football and became a championship boxer.
He then transferred to UCLA, where he again played football with such greats as Kenny Washington, Woody Strode, and Jackie Robinson. Two of Wai's brothers, Conkling and Robert, also played Bruin football. Francis Wai was a javelin thrower on the track team, and played intramural basketball and rugby. He graduated in 1940 with a Bachelor of Science degree in Economics.
On September 27, 1941, he joined the Army, and was assigned to the 34th Infantry Regiment. After fighting their way across the southwestern Pacific, the 34th was assigned the task of landing at San Pedro Beach on Leyte Island, at a location known as "Red Beach." It was at Red Beach that Captain Wai's heroism was recorded for posterity.
According to the citation issued with the posthumous Distinguished Service Cross (later upgraded to the Medal of Honor) awarded to Captain Wai:
Captain Francis B. Wai distinguished himself by extraordinary heroism in action, on 20 October 1944, in Leyte, Philippine Islands. Captain Wai landed at Red Beach, Leyte, in the face of accurate, concentrated enemy fire from gun positions advantageously located in a palm grove bounded by submerged rice paddies. Finding the first four waves of American soldiers leaderless, disorganized, and pinned down on the open beach, he immediately assumed command. Issuing clear and concise orders, and disregarding heavy enemy machine gun and rifle fire, he began to move inland through the rice paddies without cover. The men, inspired by his cool demeanor and heroic example, rose from their positions and followed him. During the advance, Captain Wai repeatedly determined the locations of enemy strong points by deliberately exposing himself to draw their fire. In leading an assault upon the last remaining Japanese pillbox in the area, he was killed by its occupants. Captain Wai's courageous, aggressive leadership inspired the men, even after his death, to advance and destroy the enemy. His intrepid and determined efforts were largely responsible for the rapidity with which the initial beachhead was secured. Captain Wai's extraordinary heroism and devotion to duty are in keeping with the highest traditions of military service and reflect great credit on him, his unit, and the United States Army." /s/ William J Clinton President
About three months after his death, the grim military bureaucracy of death began its long, officious grind. Captain Wai's personal effects were collected and catalogued. The effects included handkerchiefs, a pen, a notebook, a sewing kit, and two rings. One ring was inscribed "Francis-Louise 7-3-43"; the other, made of 10K gold, read "Class of '40," in honor of the year he graduated from UCLA. A check for $10 was also found, converted to US Government check #169874, and returned to his next-of-kin.
Captain Donald H. Burr belonged to Captain Wai's unit. Acting as Summary Court Officer, on January 2, 1945, he confirmed that the package contents matched the packing list, signed his name to the routing slip, and shipped the box to the Quartermaster Depot in Kansas City, Kansas.
From Kansas City, the effects were checked again, and then sent to Wai's father, Kim, a resident of Honolulu.
Meanwhile, the remains of Captain Wai were at rest in the Philippines. He was buried at the U.S. Military Cemetery named Palo No. 1 at 6 p.m. the day he was killed. His grave was between the start of a row and Sergeant Asa D. Cady, of Cato, New York. Sergeant Cady was killed the same day as Captain Wai, and was also a member of his Regiment.
In June of 1945, the small Palo No. 1 cemetery was closed, and all the remains there transferred to the large USAF Cemetery, also on Leyte. Here he was reburied, again at the beginning of a row, and next to Motor Machinist Mate First Class Carl A. Elliott, Jr., of Wapokoneta, Ohio. MM1c Elliott had been serving aboard the USS LST-171, and was killed aboard this amphibious vessel on October 20, 1944, the same date as Captain Wai was killed.
In 1947, the US Government initiated its "Return of the World War 2 Dead" program, and began to contact the next of kin of the those Americans buried overseas. After many attempts were made to contact Louise Wai, Captain Wai's wife, it was finally learned that she had remarried. She was now Louise Easterly and living in Morristown, Pennsylvania.
By law, the right to determine the disposition of the remains of Captain Wai passed to his father. On May 2, 1949, Kim Wai went to Fort Shafter, and signed the "Request for Disposition of Remains" form, in the presence of a notary, 1st Lieutenant Everett M. Brown. His direction was that the remains of his son be permanently buried at the National Memorial of the Pacific (better known as the "Punchbowl") in Honolulu.
His funeral, conducted by Major Albert F. Click, was held on September 8, 1949. It was well-attended, with "both parents and immediate members of the family and 100 relatives and friends" at the gravesite, according to the military escort who accompanied his remains, Captain Gilbert L. Wong. As part of the procedure, Captain Wong was required to complete a form known as the "Escort Questionnaire." In the section of the form subtitled "HOW DID THE NEXT OF KIN REACT," he checked the required boxes as follows:
HOW DID THE NEXT OF KIN REACT:
CO-OPERATIVE: YES
EMOTIONALLY UPSET:  NO
CALM: YES
The story of Captain Wai does not end with his funeral in 1949. For his actions on October 20, 1944, he had been awarded the Distinguished Service Cross (DSC), the second highest commendation available. However, not a single American of Asian descent was awarded the nation's highest award, the Medal of Honor, during World War 2.
During his brief service, Francis Wai was awarded  the Asiatic-Pacific Campaign Medal, the World War II Victory Medal, the Philippine Liberation Medal, the Distinguished Service Cross, the Purple Heart, the American Campaign Medal, the Combat Infantryman Badge, and the nation's highest award, the Medal of Honor.
In 2000, a number of Asian-Americans, including Captain Wai, had their DSC's upgraded to the Medal of Honor. Captain Wai's award was presented posthumously by President Bill Clinton on June 21, 2000. Captain Wai is the only person of Chinese descent to ever receive the Medal of Honor. On October 10, 2014, Captain Francis Wai will be inducted into the UCLA Athletic Hall of Fame. The next day, his name will be announced, along with the other current inductees, at half-time during the UCLA versus Oregon football game.
Additional information about Francis Wai's life, service, and military honors can be found in his Wikipedia article.
If you have any information to share about Francis Wai, please write to me in the comments, or send me an email through my Contact page. Personal thanks go to the Archivists at Sacramento City College for their assistance with photos of Francis Wai.