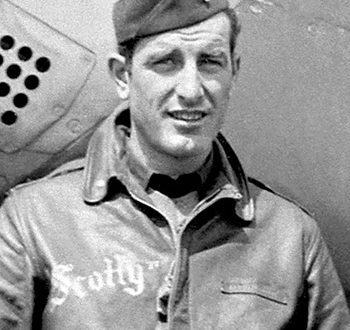 Night Take-Off
The P-51 Mustang, tail #43-6685, prepared for takeoff early in the morning of June 6, 1944. The mission of its unit, the 352nd Fighter Group, was to support the ground troops landing in Normandy that day. The weather was listed as "changeable and at the time of the accident the sky was overcast and there was a slight drizzle."
At 0251 hours, the aircraft was seen to crash into one of the large lighting towers that surrounded the field at Bodney, in East Anglia, England.
"The ship burst into flames immediately . . . . The crash tender was dispatched immediately to the crash but because of ammunition going off, they could not go near it . . ."
The pilot, 1st Lieutenant Robert G. Frascotti, 21, was killed instantly. Despite his age, he was a veteran, with over 500 hours of experience flying the P-51, and had earned his rating as pilot more a year before, on March 25, 1943.
The accident was blamed on "25% Weather" and "75% Field lighting." The P-51 was a total wreck.
Lieutenant Frascotti was buried in England.  After the War, his next of kin chose to have his remains returned to the United States. In 1948, he was laid to rest at the Sacred Heart Cemetery in Milford, Massachusetts.
Robert C. Frascotti photo provided by Erich Anderson, Veteran Tributes. Used by permission.