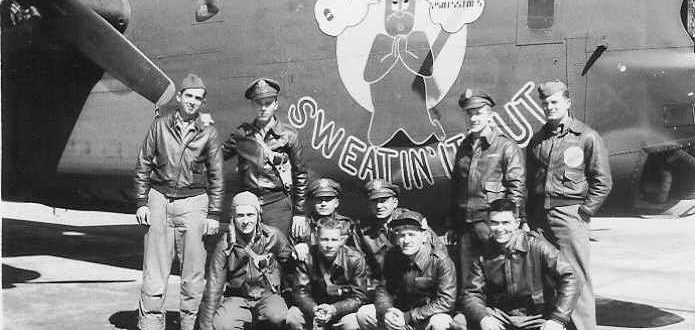 Sweatin' It Out
"Sweatin' It Out," B-24 tail #42-52629, left its base at Lavenham, England, as part of the multitude of heavy bombers dispatched against France on D-Day, June 6, 1944. Its target was the road network intersection at Caen.
An SOS was received by the P-51 fighter base at Saffren Walden, in Essex, that the bomber had four dead engines. That was the last word received; the bomber and crew were never seen again. Under the "Persons who are believed to have last knowledge of aircraft" section in the Missing Air Crew Report for this B-24, only the words "No one in this Group" are typed.
No sign of the plane or its crew were ever found. The crew was:
2nd Lieutenant Norman E. Gross, Conway, PA
2nd Lieutenant Willard D. Haskell, Belmont, MA
2nd Lieutenant Francis E. Mek, Kansas City, MO
Flight Officer Milton Levine, Suffolk County, MA
Staff Sergeant Benjamin A. Hubel, Jr., Cape Girardeau, MO
Staff Sergeant Max I. Markowitz, Brooklyn, NY
Sergeant Charles A. McWilliams, Bloomfield, IA
Sergeant Stanley J. Benson, Pontiac, MI
Sergeant Harold O. Allensworth, Houston, TX
Staff Sergeant Henry B. Westoff, Jr., Syracuse, NY
It was the only loss suffered by the 487th Bomb Group on D-Day.