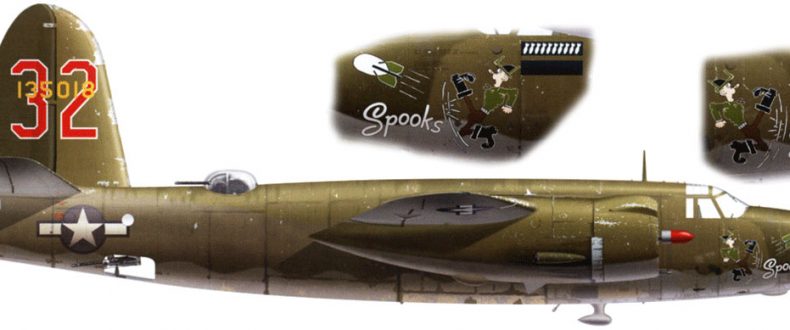 "Flying Around Beneath the Overcast"
Sometimes the reports are sparse, despite the tremendous loss of life and damage to property.
On June 6, 1944, B-26 'Marauders' of the 394th Bomb Group (Medium) were among those attacking coastal batteries at St. Martin de Varreville, in Normandy, France.  As students of the D-Day invasion know, the weather was very poor that day.  In the rainy bad weather and the early morning dark, two B-26's of the 394th collided in mid-air, in the area of Gillingham, England. The crash report provides all the information that is known.
An excerpt of the report reads,
…hearsay testimony of civilians in the vicinity of Gillingham, Kent, indicate that one aircraft was flying around beneath the overcast. The other aircraft came down out of a large black cloud and the two collided. No actual eyewitnesses were found. Aircraft 42-96050 jettisoned some of its bombs which fell into a house and killed one civilian. The aircraft then crashed into another house, killing three more civilians."
The other bomber, tail # 42-96263, "…crashed in a nearby orchard."
Both pilots were experienced in flying under normal circumstances.  1st Lieutenant Witcher T. Berger, of Gretna, VA, had over 223 hours flying the B-26; the other pilot, 2nd Lieutenant Claude W. Kline, Jr., of St. Joseph, MO, had more than 212 hours.  However, LT Berger had less than three hours of experience of night flying in the 30 days before the crash, and LT Kline had none.  The investigating team, perhaps under the press of events, allocated no blame in considering the cause of the crash.
The four civilians killed on ground were: Fanny F. Whittingham,60; Joan Beatrice Ada Taylor, her niece, 19; Percy Montague Williams, 59; and George Thomas William Gandon, 46. The entire six-man crew of each plane was killed.
The crew of Aircraft 42-96263 included:
2nd Lieutenant Claude W. Kline, Jr.
2nd Lieutenant Emil F. Ostrowski
Sergeant George S. Rodgers
Staff Sergeant James F. Bechtle
Staff Sergeant Raymond F. Sablatura
Staff Sergeant Joseph Amato
The crew of Aircraft 42-96050 were:
2nd Lieutenant Witcher T. Berger
2nd Lieutenant Warren D. Rodgers
Sergeant Alfred M. Zussa
Staff Sergeant Edward H. Monaghan
Corporal Forrest W. Pafenberg
Staff Sergeant George S. Knight
Their remains are buried in scattered cemeteries in England and the United States. 2nd Lieutenant Ostrowski and Staff Sergeant Bechtler are buried in a group plot at the Richmond, Virginia National Cemetery.  Their remains could not be separately identified.
There is a memorial site in their memory with original news clippings, featuring interviews of some of the survivors on the ground. Click here to read more.