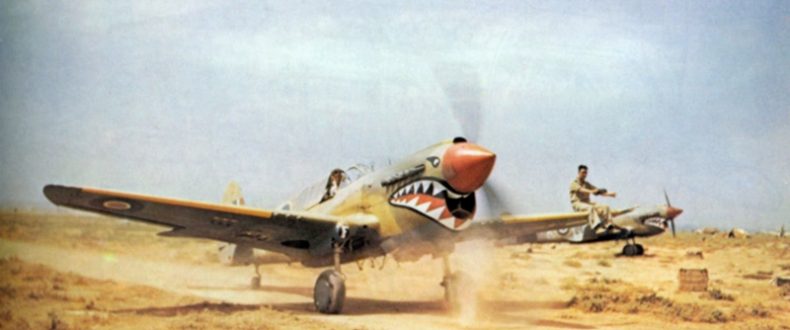 West of Terni
The city of Rome had been in Allied hands since June 4, 1944, but much fighting continued on in the area.  Sixty-five miles to the north, German forces were regrouping near the town of Termi.
P-40 "Warhawks" of the 27th Fighter-Bomber Group at Santa Maria, Italy were ordered to attack these German positions on June 6, 1944.
West of the city, a flight of four P-40's went down low to attack 5 camoflaged German military vehicles. One of these planes, piloted by 2nd Lieutenant Ralph F. Hansman, of New York City, was hit.  A witness made the following report:
"In my opinion, Lieutenant Hansman was hit by accurate 20 mm fire off the target and augered in. Due to our low altitude and high speed, he would not have had a chance to bail out."
Lieutenant Hansman's remains were recovered and after the War, returned to the Mount Hope Cemetery in Hastings-on-Hudson, NY.
Near Bolsena Lake, two more P-40's were downed. The flight leader, 2nd Lieutenant David W. Johnson, left the following report (a copy is included in the photo gallery):
"I had four P-40's strafing in the Bolsena Lake area….after ten or fifteen seconds, I looked back for the other three planes, but saw none but my wing man. There was a cloud of dust about 100 yards long in the area where we were fired on. I called for the position of the men twice but received no answer."
The two downed pilots were 2nd Lieutenant Lawrence J. Flory, Jr., of Missouri, and 2nd Lieutenant Jesse A. Harris, Jr.  Lieutenant Flory's remains were never found and he continues to be listed as "Missing in Action."  The case of Lieutenant Harris is more puzzling.  He is not listed as having been killed in World War 2, nor is he listed in any Prisoner of War databases.  Should any reader know about this man, please contact me.
When Terni was finally reached by British tank forces on June 13, they found that the Germans had evacuated the City. Terni was no longer a target.