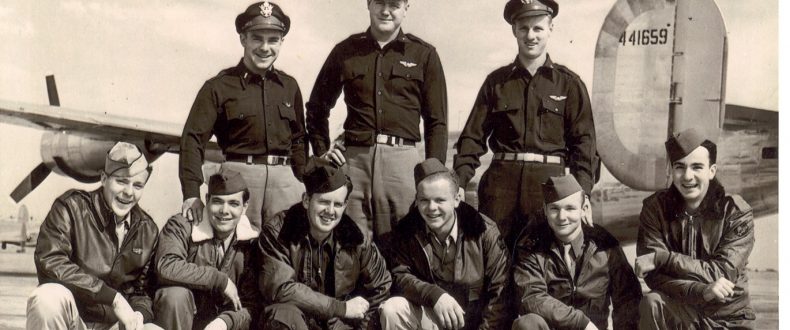 2nd Lt. William M. Hummer of Mine Hill, New Jersey
2nd LT William M. Hummer, born Nov. 3, 1923 in Dover, NJ, was the son of John W. and Beatrice V. Hummer, living at Basset Avenue in Mine Hill.  He was a very active youth, as his Physical Examination for Flying medical report shows.  In 1939, he broke his right clavicle playing football.  In 1940, he broke his left leg playing baseball, and in 1941, he broke his jaw wrestling.
He entered the Air Corps July 22, 1944, and was assigned to the 67th Bomb Squadron, 44th Bomb Group, based in Shipdham, England.
LT Hummer was a last-minute addition to a crew piloted by 1st LT Leonard J. Crandell, to participate in Operation Varsity.  Varsity was a low-level supply drop to assist in the airborne crossing of the Rhine River.  Hummer served as the Navigator of the crew.  On March 24, 1945, his B-24 Liberator, tail #42-100314, nicknamed Kay Bar was hit by enemy ground fire, seen to lose control, crash, and burn.
One witness reported, "…at 1314 hours, after the supplies were dropped (the aircraft) took a sudden climbing attitude, nose high, and at the same time the number one engine was observed smoking. The aircraft then stalled out and nosed directly into the ground and exploded immediately…"
The crash occurred near Wessel, Germany. The entire crew was killed.  These men were:
1st LT Leonard J. Crandell (Pilot), Peoria, IL
2nd LT William B. Croll (Co-pilot), Larchmont, NY
2nd LT William M. Hummer (Navigator), Mine Hill, NJ
TSGT Robert B. Ogilvie, Jr. (Engineer), Auburn, NY
TSGT Larry J. Feeney (Radio Operator), Syracuse, NY
SSGT Walter R. Battenberg (Waist Gunner), Milwaukee, WI
SSGT Irvin E. Germolous (Waist Gunner), Albany, CA
SSGT James M. Brown, Jr. (Tail Gunner), Denver, CO
SSGT James E. Roach (Nose Gunner), Denver, CO
His father complained about how his son's personal effects were returned ("they were received some time ago in a dilapidated cardboard box with no inventory or list of any sort…") and noted that a number of expected items were missing.
Mr. Hummer wrote "…His little personal things that I knew he would want me to have were not there.  How anyone in this Country's Army who was responsible for such things, could be so amiss in such an obligation, is beyond my ability to understand. Mine is not the isolated case – it seems to be general". Mr. Hummer copied the New York Tribune in this letter.
He added, in another letter, that "…my son's passing was directly the cause of Mrs. Hummer's dying the following June…".
LT Hummer rests in Plot C, Row 15, Grave 4, in the Netherlands American Cemetery at Margraten, Holland.
Update: As a result of an article about 2nd Lt. William Hummer in the New Jersey Daily Record, residents of Morris County, NJ and the Dover Historical Society began resarching furiously to find out all they could about their local hero and his family. During this time, Bill Beigel was searching for living relatives of this young member of the Crandell Crew, about whom so little was known, even with the carefully-documented 44th Bomb Group's history. After months of searching, two of the three children of William Hummer's elder brother, DeWitt Ramsey Hummer II were located, and told about their uncle's story. One of the adult children found was William Hummer's namesake, William Minton Hummer II.
In addition, Morris County, NJ plans to honor 2nd Lt. William Minton Hummer with its Distinguished Service Medal on November 12, 2014. Mine Hill Mayor Sam Morris will accept the medal on behalf of the Hummer family. Bill Beigel will attend the ceremonies.
Related articles:
Mine Hill vet gets attention of military researcher
"How am I to know?"