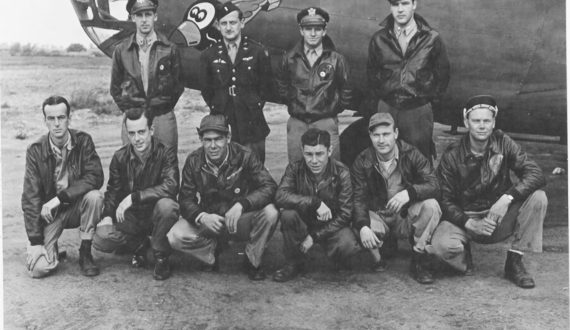 Incoming Message: Classified, Ruth-less
Along with 94 other B-24 Liberators of the 2nd Air Division, "Ruth-less", B-24 tail #41-24282, rumbled down the runway at Shipdham, in East Anglia, England.  The bomber was named in honor of the pilot's girlfriend, Ruth: since he was away from her, he called himself, and his bomber, "Ruth-less."
Their target was a mysterious construction site at Pas-de-Calais, on the coast of France. Although the purpose of the site was yet unknown, it would turn out to be one of the launching ramps for the German V-1 rocket.
First LT James O. Bolin, of Joplin, MO, was the pilot of the Ruth-less.  Shortly after dropping their bombs during the brief flight, the bomber received flak damage to the Number 3 and Number 4 engines (both engines on the right wing of the plane).
It was certain that the wounded bomber could not make it back to its base. However, as is so often the case, the weather in England that day was poor.  While attempting to find a landing area, "Ruth-Less" crashed into a hill, killing all aboard.  There above the town of Eastbourne, Sussex, the flight of Ruth-Less ended.
Three members of the crew are buried at the Cambridge American Cemetery in England; the rest were returned to the United States after the war.  The crew in the photo above (thankfully for them) are not the crew aboard the "Ruth-less" in this famous final mission.
The crew of the "Ruth-less" on this fateful flight (again, not pictured) were:
James O. Bolin, Pine Bluff, AR
Harold W. Schwab, Bronx, NY
Orville L.Wulff, DeSmet, SD
Edward J. Ackerman, Brooklyn, NY
James H. Bales, Dayton, TN
Chester H. Yurick, Needham, MA
George M. Dewald, Norristown, PA
Aubrey J. Maloy, Hacoda, AL
Ralph E. Strait Saluvia, PA
James L. Wilson, Easley, SC
In all, the Second Air Division lost four B-24s this date, a very low total. Like "Ruth-less," another crashed on return from the mission, while one other went down over France, and another over the North Sea.
A memorial marks the crash site of "Ruth-less" in Eastbourne. Below is a moving video by Steve Edwards. The video is in tribute to this heroic crew and to Arthur King, who witnessed the crash, and who climbed the hill to the memorial every Remembrance Sunday for 50 years to lay flowers there. Lest we forget.