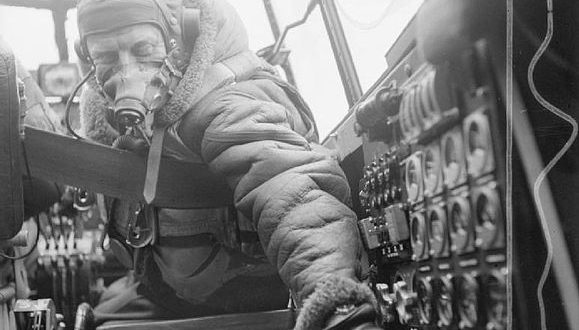 B-Beer
Like many young Americans, Carl Joseph Van Horn, of Columbus, Ohio, was eager to "get into the fight." So, in July of 1941, he joined the Royal Canadian Air Force, and was trained as a navigator.
When America entered the war in December of 1941, Van Horn stayed with the RCAF, while being assigned 12th Replacement Depot of the United States Air Corps.
While flying out of Coningsby, he flew a number of night missions, as Commonwealth crews typically did. He was credited with flying against some of the toughest targets in Germany, including Stuttgart, Augsburg, Essen, Nurnberg, Brunswick, and the most dangerous of all, Berlin.
On the night of June 6, 1944, his crew took off for a mission against German troop concentrations at Caen. His crew was a mix of Commonwealth flyers: his pilot was Flying Officer George M. Kennedy, from New Zealand. Both of the gunners were Australian, and the rest of the crew Canadian. 1st Lieutenant Van Horn was the navigator of the crew.
Their aircraft was the Avro Lancaster Mark III, the main four-engine bomber used by Commonwealth flyers. It's nickname was "B-Beer," and it belonged to the Royal Air Force's 83rd Squadron.
The Lancaster was downed that night over Caen by German air attack. The only survivor of the crew was Flight Sergeant Constantine George. The other five Commonwealth members of the crew are buried at Banneville-La Campagne War Cemetery in France; the British did not repatriate their war dead in World War II.
1st Lieutenant Van Horn survived the crash, but died the next day while a prisoner of war of the Germans.
Here is a video of an Avro Lancaster during a memorial flight ceremony in England, posted by Wings: