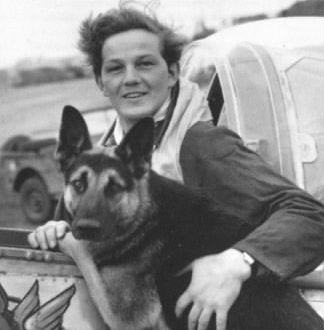 Caboose Blue Section
It was June 6, 1944. The 4th Fighter Group, flying the P-51 Mustang, was on a fighter sweep over Northern France in support of the D-Day landings taking place that day.
No one saw the Mustang, piloted by 1st LT Harold L. Ross, Jr., of Greensboro, NC, go down. The only description of his last mission came from 1st LT Ralph K. "Kidd" Hofer, himself shot down and killed less than a month later, on July 2, 1944.
"I was leading 'Cobweb Red Section.' We were split up due to abortives, so I joined up with 'Caboose Blue Section' (Captain McGrattan, Lt. Ross and Garbey and Flight Officer Smith).
"We strafed a train and I shot up a staff car. We then spotted several P-47s and P-51s shooting up a truck convoy of twenty trucks. We watched them for several minutes and then met them head on as they started out. "Caboose Blue Leader" then led his section down and strafed another truck. I followed by did not fire. We had just pulled up when fifteen ME-109's and FW-190's shot down on us and all around us. They also had top cover of ME-109's."
Nothing more is said concerning LT Ross in this report.
But the story doesn't end here. According to an article by Jim Schlosser of the Greensboro Daily News, there is an added element of tragedy.
On June 15, 1944, the family of LT Ross (Harold B. Ross, Sr. and Sarah Ross) was notified that their son was missing in action. No other information was received
Then, in April of 1945, Lieutenant General Jimmie Doolittle, commander of the 8th Air Force, sent a letter to LT Ross's parents, stating that LT Ross had completed his required number of missions, and was waiting for orders to return home.
The Ross family contacted their Senator to try to understand the true status of their son. Then, in June, they received another letter from General Doolittle, stating that information had been received that finally confirmed the death of their son.
His remains were eventually recovered from a small cemetery in Bacquepuis, France, and from there moved to the Normandy American Cemetery at Colleville-sur-Mer, France, where they rest today.
No photos were available of 1st Lt. Harold L. Ross, Jr. The photos included here  (source: Fold3) are of the storied 1st Lt. Ralph K. "Kidd" Hofer. If you have any photos of Lt. Ross, please get in touch!
The painting in this gallery is "Salem Rep" by artist Troy White and is used with permission from the artist. You can see more of his work at http://www.starduststudios.com/.