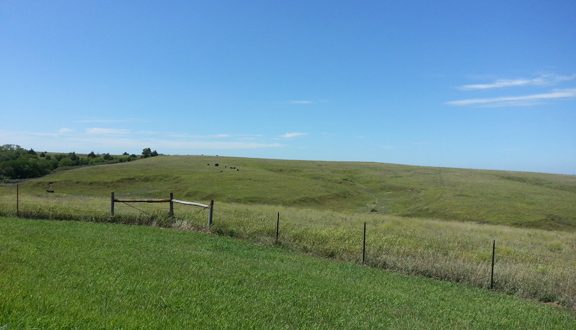 The Good Life Edition – Research Tour Travelog
At the Kansas-Nebraska state line is a white chapel. It is the Immanuel Lutheran Church. A small cemetery is behind the building.
On US-136, it is late August
Summer hasn't left yet
5 miles to Jansen, another 5 miles to Fairbury
And 5 miles back is the valley of the Big Blue River
And where am I, lost in this dry-land sea of gold and green
The road a carpet, or a stone-paved direction to be obeyed at all costs
Church cemeteries full of Germans and Swedes that were born in the Old World
Decades before the Great War
Some men younger, though they would be old now
Their time on our verdant earth ended in a cane brake near a smashed farm
On Okinawa
Or in a nameless snow-encompassed forest in Belgium, hungry and bled-empty
Or at 21,000 feet, where the cold of the air bit harder than enemy fire


* * * * *
Thayer County now at Road 7300 the wind pushes and glides through the dancing green leaves of summer, a summer still here, and the road goes on until the water tower of Gilead, cross roads leading north and south to weather vanes and crooked, rusted Texaco signs and white panels at the end of the columns of corn advertising seed brands. The highway dips at Dry Creek, and then rises again as it leads me to US-81, and Hebron, and York, and the small white cross at the intersection in memory of Rebecca Tracy.
Deschler, 7 miles; Red Cloud 53 miles; Speed Limit 60 miles per hour. Numbers all, that try to limit and measure and demark the great boundless sea of grasses and corn and trees and telephone poles.
There are three channels to Spring Creek: two with water, one only brown dirt going nowhere.
The Deschler City Cemetery remembers Anton F. C. Hillman, and Louis D. Schultz, of the Great War, buried far overseas, in colonnaded ceremony.
And the Deschler City Cemetery remembers Clarence J. Asche; and Harland E. Fintel; and Rudolph L. Fischer; and Wilfred E. Miessler, who never came home from the Second World War.
Second Lieutenant Wilfred E. Miessler, piloting a Flying Fortress, mechanical problems on a training flight, and down it was pulled into the North Sea. Down and drowned in the cold deep on March 9, 1945.
In Nicholas County, the road runs straight and true. In Webster County, the road runs straight and true, and crosses streams too tiny to have names, so we only know them by the bridge under which they run; one is Bridge 08637.
* * * * *
Out west, along US 34, are the Rockies. Maybe they're too far away to be seen, or maybe they are shrouded in clouds. The clouds shout out that rain is on the way.