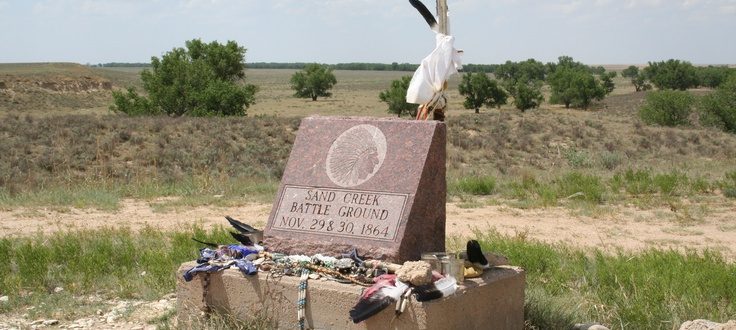 The Quiet Edition – Research Tour Travelog
On US Highway 34 west bound from McCook, NE. Past the Frenchman Valley Co-Op Silo. Rail cars on the left of me, cornfields to the right, black clouds up ahead.
There are dozens and dozens of flag poles at the Culbertson NE cemetery.  Each one has at least one small metal plaque attached, bearing the name of a veteran from the area, the year he was born, and the year he died.
There is a headstone for SGT Harold L. Propp, of the 680th Glider Field Artillery Battalion. He was killed in action on March 24, 1945, in Wessel, Germany, during Operation Varsity.
Still west on US-34; signs for Trenton, 8 miles; Benkelman, 39 miles.
Cope, Colorado: In the town cemetery, SGT Ray H. Drullinger of the 157th Infantry Regiment is buried. He was killed on July 10, 1943, in the landings at Sicily. At the town park, his parents placed a metal sign in his memory, "love, Mom and Dad".
His mother wrote a letter to the Army upon hearing of his death:
…what I want to know is where my Son is buried, where he was buried and how? Was he layed away in an individual grave or in a trench with other soldiers? Was he buried in a casket or just rolled in a blanket. I want his body brought back to the U.S. before it deteriorates. In that far off place. I never will be at rest until I can see it for myself and recognize it as my son. This is terrible for (a) Mother to bear. Where is the graveyard for the boys that were killed in Sicily…..I wish you would answer all the questions. I will die if I can't find out what became of his body.
SGT Drullinger was buried in Cope in 1948. I feel honored to visit his grave, even though I had to go past a locked gate and climb over a wall to see it.
Visited Sand Creek Massacre National Historic Site, east of Chivington, CO, on State Highway 96.  About 200 Cheyenne and Arapahoe, members of "peace tribes" were massacred here in 1864. It is a quiet place.