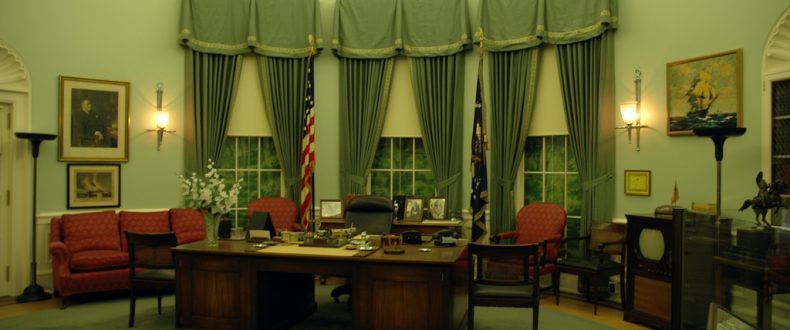 The Harry Truman Edition – Research Tour Travelog
Today I visited the Harry Truman Library and Museum in Independence, Missouri. I think that this is one of the finest exhibits about this great man, and that Truman was among our most admirable presidents.
In the section on Truman's decision to drop the Atomic Bomb on Japan, there is a sign-in book for visitors to use to express their feelings about this momentous event. What I wrote was:
Harry Truman had guts, and I think his decision was correct. But let's remember to say a prayer for the souls of the Japanese people on the ground in Hiroshima and Nagasaki, and a prayer as well for the souls of the crews of the 'Enola Gay' and 'Bock's Car,' the B-29s that carried the nuclear devices."
I was reunited with my MIA luggage in Lawrence, Kansas, after having left it behind in my hotel room several stops (and states) ago.
Drove one of the nicest highways in Kansas, US-77 north from Manhattan, KS.  With a few rocky outcroppings, I felt like I was driving through "The Kansas Alps."
Lots of rain just south of Waterville.
World War 2 Research: I prepared proposals for:
PVT Frank S. Brown, killed in action 8/23/44 in France
1st LT Paul L. Updyke, killed 1/6/45 in crash somewhere in the "CBI" (China-Burma-India) Theatre of the War.
Oval Office Reproduction photo by Marshall Astor, used by permission under a Creative Commons license.