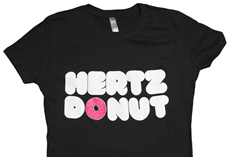 The Hertz Donut Edition – Research Tour Travelog
Up at 4:45  a.m., so I could find a Hertz location to replace my vehicle (road damage to front bumper, cause unknown) and found a place at 6:30. My replacement vehicle is a minivan called the Interstate Rocket Ship, or I.R.S. Also, I lost some of my luggage – unless it is buried in the van!
On the road, I saw a bumper sticker that said "DADDD," which stands for "Dads Against Daughters Dating Democrats," so at least I know where I am.
On today's museum tour itinerary was the Air and Military Museum of the Ozarks in Springfield, Missouri, affectionately known as AMMO. AMMO is situated in a long strip mall, flanked by:
A XXX adult bookstore
A glass pipe emporium (aka head shop)
A motorcycle repair shop
A massage parlor
Two museum volunteers gave me a 45-minute tour of AMMO. One of the volunteers is a Vietnam War vet, 3rd Marine Division. He told us a harrowing story of being wounded by a booby trap in Quang Tri Province (where a lot of very bad sh*t went down) and how 20 guys in his platoon weren't as lucky as he was.
Upon leaving the Air Museum, I discovered that Missouri is literally crawling with armadillos. Use your imagination as to how I might have figured that out.
Lots of rain along I-44 today.
On the way into St. Louis, saw the Gateway Arch, which I last saw in in the rear view mirror of my old blue Toyota in September of 1983,  after having worked there as a Park Service Ranger all summer. It is a beautiful, magnificent structure.
Fantastic downpour/electrical storm here in Pontoon Beach, IL, as I write this. Hoping that lightning will strike the huge 'Denny's' sign next door……
On the World War 2 research front, I prepared one proposal: TSGT John D. Scarbrough, 385th Bomb Group, downed over Mecklenburg Bay, Germany, on February 24, 1944; and I was notified that I will be receiving payment to research PVT Claude R. Grogg, Jr.