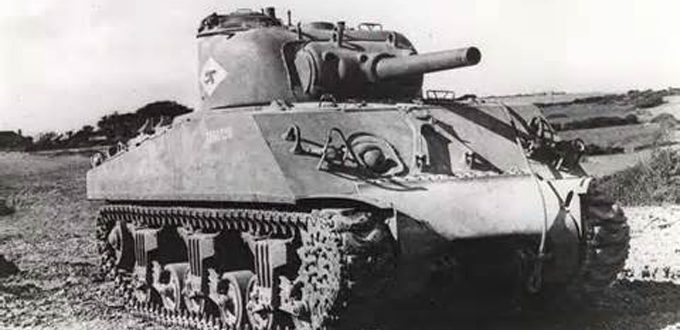 The Sherman Tank Edition – Research Tour Travelog
It was a rough ride on US-50 from Hutchinson, KS, to Wichita. Cars going at 70 MPH in each direction, with no visible center meridian. Lots of construction work as well. Part of the plastic of the front bumper of my Hertznbeigel Research-Mobile somehow detached from the rest of the vehicle, so, at low speeds, my car sounds like a tank missing a tread.
At 10 a.m., I had a great tour of the Kansas Aviation Museum next to the Wichita Airport. It turns out that about 70% of all aircraft ever built in the United States were built in Kansas. Very nice archives, including many training and maintenance manuals for WW2-era aircraft; the museum also has a strong collection of original aircraft construction blueprints. Best of all is the only fully-equipped version of the "Link Trainer" I have ever seen.  The "Link" (also known as the "Blue Box" and "Pilot Trainer") was one of the first training devices used by aspiring pilots in WW2.
On Kansas Highway 99 from Eureka to Olpe, saw only one car besides myself going northbound for this 35-mile stretch. Nice ride through green countryside; looked like parts of Iowa or Minnesota.
At Olpe, I ate at the Chicken House, home of the best fried chicken I've ever tried.
I learned on this trip that my PR rep is moonlighting with a tax-prep/dog-kennel service. Explains a lot.
In Emporia, stopped at the Evergreen Cemetery.  Paid tribute to Technician 5th Grade Clair Odell Johnson, killed in World War 2 on February 20, 1945.
World War 2 Research:
Prepared one proposal: Corporal Lewis L. Wilcoxen, 1st Marine Division, killed in action on Peleliu on September 16, 1944.