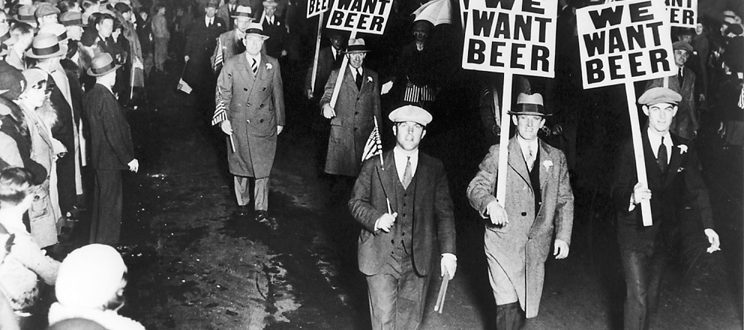 The Prohibition Edition – Research Tour Travelog
Found out alcohol is not served or sold in Kansas until noon, so breakfast was ruined.
In Liberal, Kansas, I visited the Mid-America Air Museum. Great collection of vintage aircraft; it's said to have the fifth largest collection in the United States. Very impressive B-25 on display. Liberal was home of a B-24 training base, so there were all sorts of artifacts in connection with the work that went on there during the War: one item was a B-24 Pilots Manual.
Just outside of Liberal, Kansas, I spotted a sign that asked "What if corn already knew its destiny?" Got out to take a photo of the sign, and walking to get a better angle I disturbed hundreds/millions of grasshoppers. I will always wish I hadn't.
Passed over Cimarron River on a bridge; river is bone-dry.
I was intrigued by a sign advertising a "Big Round Barn." Following the sign off US-54 near Greensburg, KS, I drove down a farm road and then a dirt road.  After five miles, I reached my destination. It was a big, round barn. No one was there. But it was big and round and probably housed things you'd find in a barn.
Almost got run over in parking lot in Pratt, Kansas, taking photo of sign for a smorgasbord place. So, like it or not, you get to see the photo.
Continuing on US-54 just south of Cullison, KS, I was looking at the green fields and trees and silos and telephone wires, and I realized I could be almost anywhere in America.  And maybe I was.
Lots of oil wells in the corn fields near Preston, KS.
Couldn't find the lobby of my hotel in Hutchinson. Found my room, but still unsure about the lobby.
Research Notes: Worked on the phone with a client who is leaving for Belgium next week to see where her uncle was killed during the Battle of the Bulge.