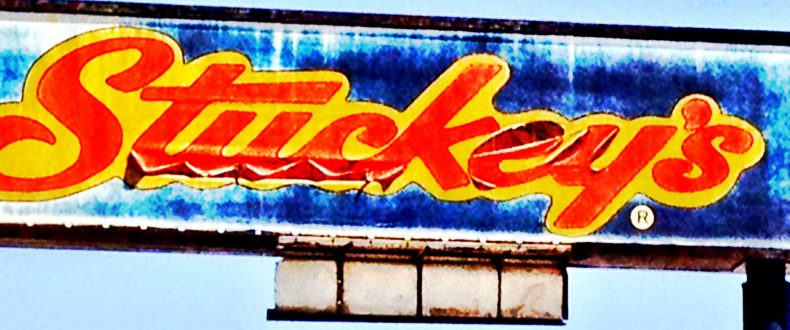 The Stuckey's Edition – Research Tour Travelog
In which Bill's thumb learns how to take a selfie.
Forty miles out of Santa Rosa, I came across a Stuckey's that looked like it had been destroyed in a riot. Driving along the US-54 Business Loop in Tucumcari, I saw ten burned out buildings, many of which were gas stations or restaurants. The scene is nothing short of post-apocalyptic.
US-54 running north-east from Tucumcari is so straight that it looks like it will take you off the edge of the earth.
Ate lunch under a shady tree on US-54 between Logan and Nara Visa, New Mexico.
Just before Nara Visa, a vehicle a few ahead of me began to shed its cargo; blankets, large pillows, and a huge sleeping bag.
Twenty miles south of Dalhart, Texas, I saw what must be the biggest feed lot in the world.  Tens of thousands of cattle spread out as far as I could see.  It reminded me of what one of the German POW camps set up for Russian Army captives in WW2 may have looked like.  It just went on and on.
Maybe I'd been on the road too long, but between Dalhart and Stratford, Texas, I saw two brand-new Los Angeles MTA buses going the other way.
Culinary Note: Guymon, Oklahoma, has a lot of Chinese restaurants.
The short stretch of US-54 in Oklahoma has been renamed the "2nd LT Luke James Highway".  2nd LT James, 24, was killed in action on January 27, 2004, at Iskandariyah, Iraq.
Research Notes:
Today I sent out 4 research proposals:
LT Robert Rodspinner, of the 447th AAA AW Battalion, wounded in the Battle of the Bulge.
The entire crew of 2nd LT Walter Ward, 2nd Bomb Group, 96th Bomb Squadron. The crew was lost over Athens, Greece, on 12/14/43
SSGT George W. Whitely, Jr., downed in 1942 over Kokoda, New Guinea
After Action Reports for a past client for the 501st Parachute Infantry Regiment, for June 6, 1944, and September 17, 1944
I trust you will enjoy the photos of my ride for this trip: German-made "Hertznbeigel Research-Mobile," and my first-ever selfie. I thought the lighting was pretty impressive.