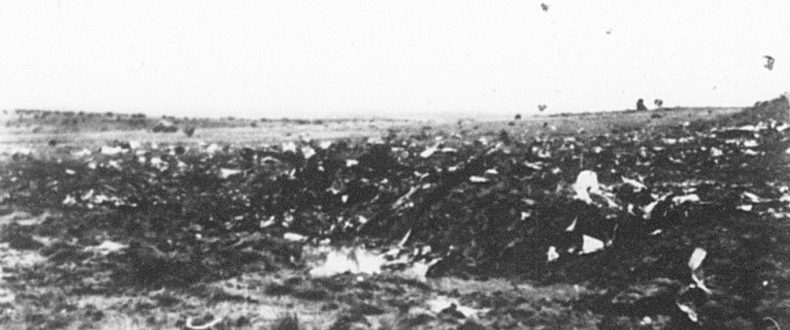 Nature of Accident: Undetermined
This is the first in a series of posts about the downed American flyers of June 6, 1944.  While this date is justifiably renowned for D-Day and the Allied storming of the beaches of Normandy, France, the war raged around the globe.  These posts will be world-wide in scope, from crashes which occurred in the United States, to all other theaters of the war.
On June 8, 1944, Mr. Jesse B. Eakin, a New Mexico rancher, made the following statement to an Air Corps Investigation Officer:
"At 11:30 on the night of June 6, 1944, we were having a terrific electrical storm, with heavy rain.  I was closing the house for the night, preparing to go to bed, when I heard a terrible explosion and a flash of light that lit up the room and going to the door I saw fire about 200 yards long about 1 mile N.E. of my house…we went to the wreckage, but due to the heat we were unable to get anywhere close to the wreck…."
B-17 tail # 44-8101 was being flown by the 14th Ferrying Squadron from Long Beach, California, where it was built, to Dallas, Texas.  From there, it would receive additional modifications and then be flown to Europe for combat duty.  The first leg of the flight, from Long Beach to Winslow, Arizona, was uneventful.
On the evening of June 6, 1944, the aircraft received fuel and prepared for the journey from Arizona to Dallas.  The weather report called for "very severe thunder storms" and overcast to 9,000 feet for the route to be flown, so the B-17 was ordered to fly at 13,000 feet.
Around 2300 hours, the bomber crashed near Santa Rosa, New Mexico.  The Accident Committee could not determine the cause, as stated in its report:
"Nature of Accident: Undetermined: The aircraft struck the ground with such violence as to preclude the determination of the nature of the accident. Cause of Accident: The state of the wreckage is such that no conclusion can be drawn as to the cause of the accident."
All three on board were killed in the crash. They were:

Lieutenant Edmund J. Lorenz, (pilot) 28, of Des Moines, Iowa
Lieutenant Dean R. White, (copilot), 22, of Columbus, Ohio
Private John Cannon, Jr., (crew), 37, of Ponca City, Oklahoma
These three men were among the 4,984 Army Air Corps flyers killed in stateside flying accidents in 1944.