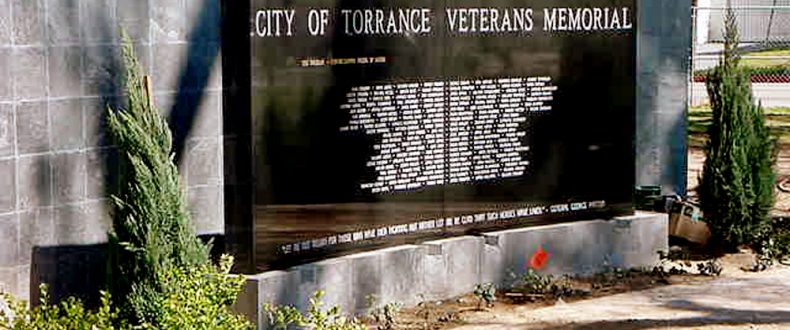 Three men among many who died from Torrance, CA
Torrance, CA has been my hometown for many years. The City of Torrance created a memorial to the war dead of our city, which has a partial list of names of our citizens who died in wars ranging from World War I to the current wars in Iraq and Afghanistan.
Among the many heroes of Torrance who gave their lives in our nation's wars, here are stories of three of them who ultimate sacrifice in World War 2. I've researched many others and will share more in the days and weeks to come.
2nd LT William Nunn, born July 5, 1922, entered the Air Corps on December 15, 1943, when he was only 21 years old. After passing a series of difficult mental and physical tests, he was selected to become a pilot. LT Nunn served with the 446th Bomb Group, based in Flixton, England. The Group flew the B-24 "Liberator," a heavy bomber. On August 26, 1944, the 446th left England to attack a German chemical plant at Ludwigshafen. Returning from the target, LT Nunn's B-24 was hit by enemy fire, on only his second mission. LT Nunn tried to keep his damaged bomber airborne, and succeeded well enough that seven of his ten crewmates were able to bail out. However, LT Nunn stayed with the plane. One of his crewmates later remembered that LT Nunn told the crew that "if anything happened to us while he was flying, he would sooner die himself." This crewmate also believed that LT Nunn stayed aboard the plane so that it would go down in an area that wasn't populated. After the War, his remains were identified in a Dutch cemetery at Bergen Op Zoom and were permanently buried overseas in the American Battle Monuments Cemetery at Margraten, Holland.
2nd LT Vladimir J. Obidine, Jr., was born on April 11, 1922, and, after attending UCLA, entered the Army on August 20, 1943. Assigned to an artillery unit, he was killed by gunshot wounds on August 25, 1944, in Paris, France, the day the city was liberated. His widow, Mrs. Joan Obidine, was given the choice of having his remains returned to the United States, or buried overseas. After requesting the Army give her additional time to make her decision, she finally requested that she be relieved of this duty, and transferred her obligation to Mr. Obidine, Sr., his father. At his request, the remains were buried at the Holy Cross Cemetery in Los Angeles.
Staff Sergeant Akira R. Shimatsu was born on November 1, 1919, and entered the Army on October 15, 1941. It is one of the great tragedies of the War that while he was serving our nation, his family was being held at the Rohwer Relocation Center (an Internment Camp) near McGehee, Arkansas. He served with the Medical Detachment of the illustrious 442nd Regimental Combat Team. On July 16, 1944, he was killed in action near Luciano, Italy, by shell fragment wounds, likely the result of enemy mortar or artillery fire. The Army sent his family a letter regarding his personal effects, stating that some of them, including a prayer book and wallet, were bloodstained, and asked if they wanted the effects anyway. The family requested that they did want the items. His remains, accompanied by a military escort, were laid to rest at the Evergreen Cemetery in Los Angeles on December 14, 1948.
If you are researching anyone from Torrance who died in our nation's wars, or if you have photos, memories, or stories about any of them, please get in touch with me.