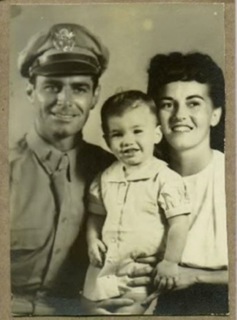 A successful mission, but for the loss of a father
The weather was good, for Northwest Europe, on February 9, 1945. The only climate-related information that was reported was cloud cover at 12,000 to 14,000 feet. The P-51 Mustangs of the 20th Fighter Group left their base at Kingscliffe, England early that morning. Their mission was to escort B-17s of the 1st Air Division to an oil industry target at Lutzkendorf, Germany. As was the standard operating procedure, the fighters were under orders to attack any targets they could along the way, especially any German airfields that they might fly over on the way to their objective.
The 20th Fighter Group enjoyed great success on this raid. They were credited with destroying two Me-109 German fighters in the air, and more than 40 aircraft of various types on the ground.
P-51C tail #43-25041 was being piloted by 1st Lieutenant Julio Nuno, of Los Angeles, of the 20th Fighter Group's 77th Fighter Squadron, with the Mighty 8th Air Force. He had trained stateside in the typical manner. He took his basic training at Houghton, Michigan, and then began the long odyssey taken by fliers in training during the War. This journey took him to Nashville, Tennessee, then to Maxwell Field, Florida, then on to Lakeland, Florida, Bainbridge, Georgia, and finally to Marianna, Florida, where he received his commission as a newly-minted 2nd Lieutenant on March 2, 1944. The 25-year-old pilot flew his first combat mission in November of 1944. By February 9, he was flying his 17th mission; a seasoned veteran, he had been credited with almost 95 hours of combat flight time.
The brown-haired, black-eyed flyer was 5'8" tall and weighed 165 pounds. He was married to Elva Nuno; the couple had an infant daughter, Julie.
 **
2nd Lieutenant Edwin R. Pitz was the last allied flyer to see Lieutenant Nuno. He provided the following testimony of Lieutenant Nuno's final mission.
"We had strafed airfield at Espersteit, Germany, and had climbed up to 14,000 above the cloud level. We were heading for friendly territory as we had no more ammunition, steering 265 [degrees]. I believe we had flown as far as the vicinity of Mulhausen when I saw [five or six] 109's [German Me-109 fighter] at approximately 17,000 feet coming down upon us from five or six o'clock . . . . Lt Nuno [was flying] on my left wing. I called a break to the right but I don't know if Lt. Nuno did break because when I climbed back out of the clouds to which I had gone he was no longer with us. His radio may have been out and he did not hear the call. This was the last I saw of Lt. Nuno. The time was about 1345 (1:45 PM)."
*
Little was known about Lieutenant Nuno's fate, other than, in Air Force lingo, he had "failed to return." His personal effects and belongings were carefully inventoried, and then sent to the Quartermaster Depot in Kansas City, Missouri. On October 18, 1945, the items, contained in "one footlocker, one carton" were mailed to his widow. There was nothing unusual among possessions, except perhaps his 31 pairs of socks.
Responding to a letter from his widow, an officer in the American Graves Registration Service wrote:
"I regret that I must inform you that information concerning the burial of the remains of your husband has not yet been received in this office. However, our Graves Registration Forces in the field are making a complete and thorough search of all areas over which our men fought. All available information such as enemy reports of death and burial, either captured and transmitted through the International Red Cross, results of interrogation of returned Prisoners of War, statements made by natives of the localities being searched, and reports submitted by Commanding Officers and fellow soldiers who were in the vicinity of the time of the fatality, are being used to implement their efforts . . . ."
"I sincerely hope that [our efforts] will result in the discovery and the identification of your husband's remains. Please be assured that when information is received that this is accomplished, and his remains have been properly interred, you will be informed without delay."
In November of 1946, a team from the 3060th Quartermaster Graves Registration Company reached Albungen, Germany. A report had been received that an American flyer was buried in the civilian cemetery there. The grave was marked with a wooden cross bearing the inscription: "Hier ruht ein unbekannter americanischer Flieger im Luftkampf gefallen am 9.II.45 (the 'II'meaning the second month, or February), which translates: "Here lies an unknown American flyer, downed 9 February 1945.
Technician 5th Grade James Egnor led the disinterment detail. He wrote that:
"With the help of the cemetery caretaker, I opened the grave. Before we reached the box, we found two dead German soldiers, who had been buried in the same grave. About five feet deep, we reached the box, in which the American flier was buried."
"I opened the box and removed the remains. The head, arms, and legs were missing, but it could easily be seen that the deceased was clothed in American flying uniform."
The investigation also turned up an eyewitness to the crash. He was Fritz Granau, the cemetery caretaker who helped to exhume Lieutenant Nuno's remains.
"On the 9th of February 1945 an air battle took place over the mountains on the other side of the Werra [River] . . . . [O]ne American fighter was shot down by German fighters. The plane started burning and came down in a spiral. Finally it fell into the meadow of Mr. Bartholomaeus about 150 meters distance from the village and exploded at the impact. Parts of the plane were scattered far over the meadow.
"(The next morning), . . . it was a Sunday, the team [of German soldiers] recovered the pilot's body. The body was very mangled and burned, the whole left side was burned . . . on Monday morning . . . I buried the very badly mangled body in a casket . . . the grave has no special number."
The remains were then moved to the large American cemetery at Neuville-en-Condroz, Belgium. In September of 1948, they were positively identified as those of Lieutenant Nuno. The identification was aided through eyewitness accounts and other means. Also noted in his IDPF was that an identification tag stamped "Julio Nuno" had been found near the crash site.
With his remains identified, a letter was sent to his widow, asking her to express her preference as to the permanent burial place of her husband. Instead, she replied that she had been re-married, and so wished to have his mother make the decision, knowing "this would make her very happy."
Lieutenant Nuno's mother, Julia, opted to have the remains of her son returned to the United States for final burial. On June 18, 1948, his remains were placed aboard the USAT Carroll Victory, a Victory-type cargo ship specially modified for use as a mortuary vessel. After landing in New York, they were placed aboard a Southern Pacific Railroad train for the journey to Los Angeles, where they arrived on July 5, 1948.
He is buried at Forest Lawn Cemetery in Glendale, California, where he rests to this day.
It was my very great honor to research LT Julio Nuno for his daughter, Julie, who never had the chance to know her father, but who is proud to honor his memory, and is deservedly proud to be his daughter.